Emailing proficiently is the first rule of winning clients or building an online business. However, anyone can make a mistake. If you've ever sent an email and forgotten its attachment or if it's ever slipped your mind to include an important detail, you know the importance of being able to resend an email.
Of course, you can send another email with the correct attachments and the relevant details, but you also don't want to create confusion. So, what do you do in such a scenario? This post will cover all your options if you're stuck in a situation where you want to resend an email. Let's begin!
Can you resend an email in Gmail?
First, is it even possible to resend an email in Gmail? The short answer is yes, but there's no native feature or button in Gmail to resend an email you've just sent out. There are a few workarounds depending on how you'd like to resend the email.
Below are the options you have for resending emails in Gmail.
Forwarding the same email to the same recipient
One way to resend an email is to forward the sent email to the same recipient. This is easily done, and below we'll show you how to do it in five easy steps.
This method is easy and avoids confusion, as the new forwarded email simply appears under the same thread in your recipient's inbox. Be mindful that if you edit the subject, it'll appear as another email, and your recipient may wonder which one to pay heed to.
Recalling an email you've just sent
Have you ever clicked "Send" and immediately wanted to recall the email? Perhaps you sent it to the wrong recipient, or maybe the timing wasn't perfect. For such situations, Gmail does have a feature to help!
It's possible to "undo" sending an email that you've just sent. It shows up as a ticker notification right when you press "Send" and lasts for a limited time.

This means you either catch it and press "undo" or your email is sent with no way to recall it. There's a way to increase the time the option remains viable, though.
Learn more about how to retract an email in Gmail.
Sending the same message to different recipients
Let's say you want to resend the same email to multiple other recipients. You can just copy and paste the body text into a new email or use the CC feature in Gmail, but this leaves a lot to be desired, especially if you're looking to send to a list of recipients.
If you want to resend an email for marketing purposes, we'd suggest getting a mail merge like YAMM. A mail merge makes sending mass emails a breeze and allows you to personalize each email to the recipient with template markers. YAMM works right in Gmail and Google Sheets, so you don't even have to leave your favorite Google platforms!
Resending an email in Gmail in 5 easy steps
If all you want to do is to resend the same email to the same recipient, just follow these steps:
Step 1: Go to the "Sent" folder on Gmail
First, go to Gmail. Find and click the "Sent" email folder in your Gmail inbox on the left side panel.
Step 2: Find the email you want to resend
In your "Sent" email folder, locate the email you want to resend and open it.

Step 3: Click "Forward"
Click the three dots in the top right corner of the opened email window.

In the menu that opens, find and click "Forward."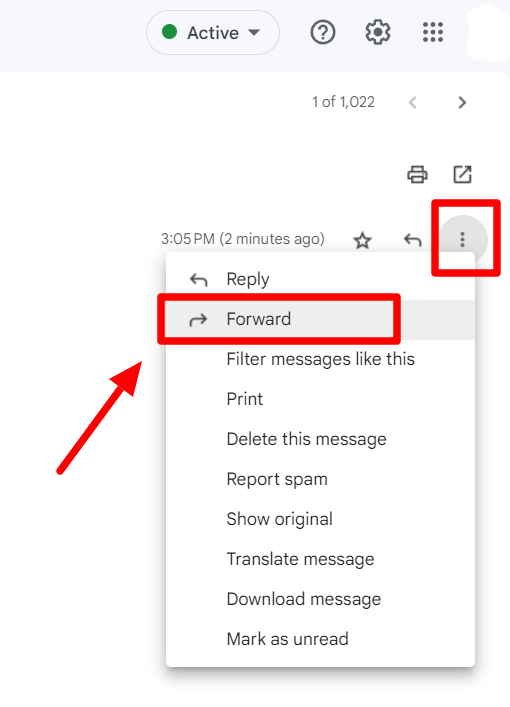 Step 4: Enter the same recipient
Clicking Forward will open up another email window in the same thread.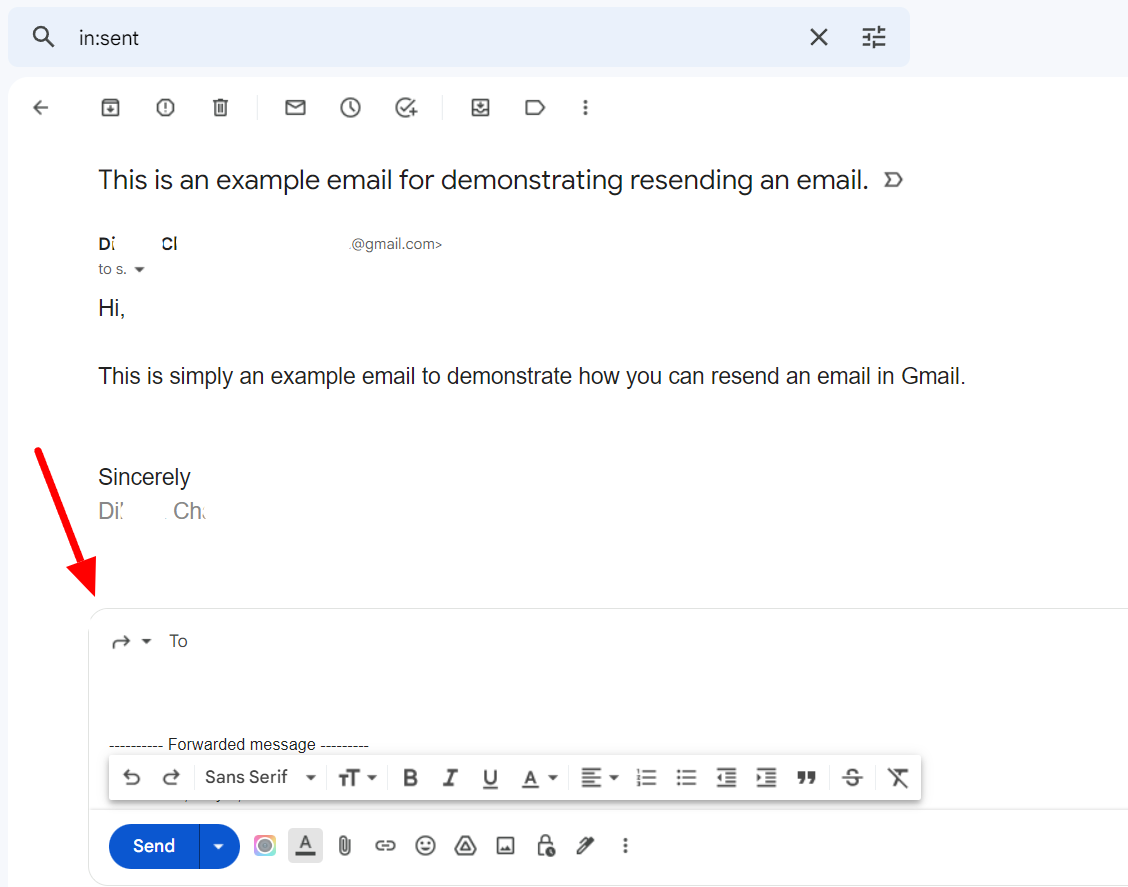 Now, in front of "To," enter the same recipient's email address again. You may also add text below explaining why you're resending the email.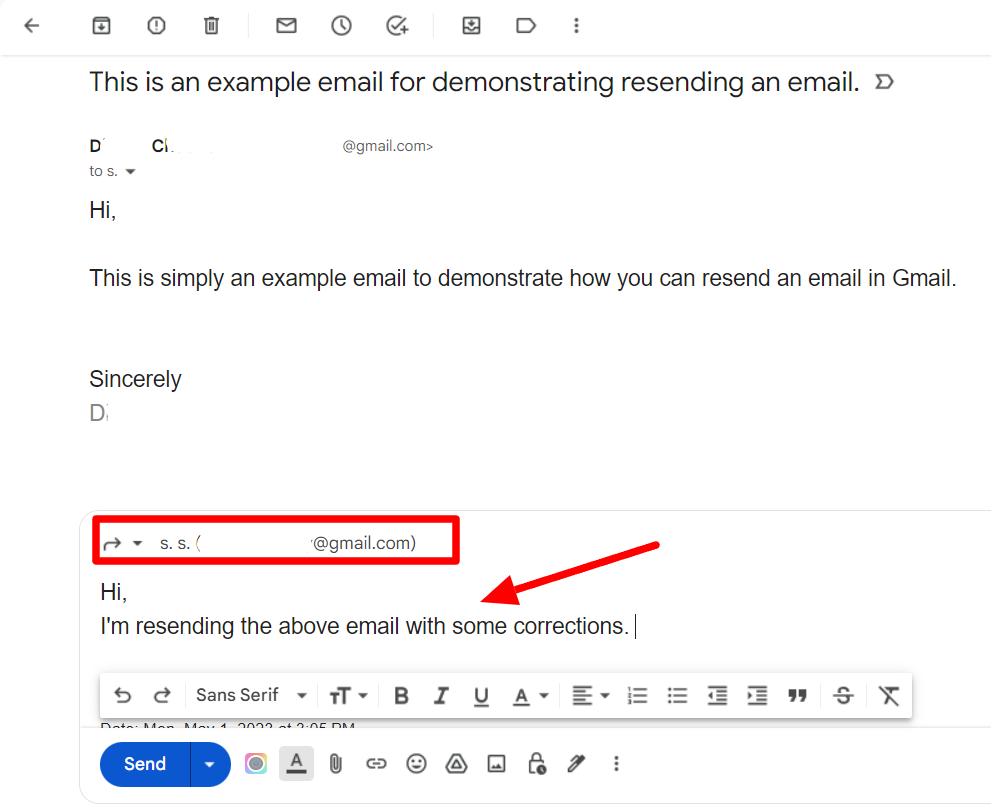 Step 5: Click "Send"
When you're done, simply click "Send," and you've resent your email. That's how easy it is!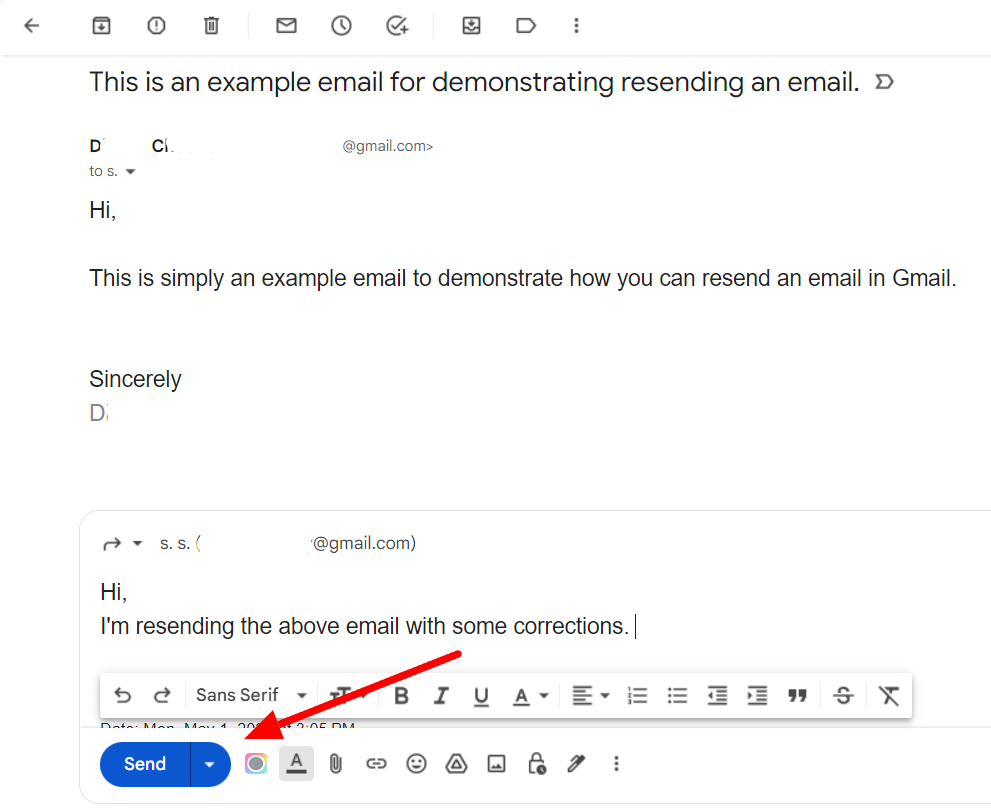 Resending an email to different people? Use a mail merge like YAMM
Now you know how to resend an email in Gmail. Even though there is no direct feature to resend an email, it's still possible. While resending an email to one or just a couple of recipients is easily done by forwarding the email, you have to work smarter when multiple recipients are involved.When dealing with multiple recipients, it's best to work with an effective mail merge tool like YAMM. With YAMM, you can personalize each email so that the potency of your email marketing is retained. Resending the same email is easy with a mail merge. Explore all that YAMM has to offer!