With text becoming the most common form of communication, you may be pretty used to read receipts. With phones, it's easy to turn read receipts on or off. You may be wondering if there's a way to do so in Gmail.
Fortunately, read receipts do exist in Gmail. Unfortunately, they aren't available for free accounts and it's a bit tricky to enable them. Luckily, we're going to walk through how you can enable read receipts within your organization!
How to request a read receipt in Gmail
Read receipts are a feature in Gmail that allows you to find out when your email has been opened. It's a feature only available to Google Workspace accounts, though, such as organizations and schools. This means read receipts aren't available for email marketing.
Here's how you can get read receipts in Gmail.
Step 1: Make sure read receipts are enabled
The first step to getting read receipts is to enable the feature in your Google Admin Console.
After signing into your Google Admin account, go to the "Menu" and click "Apps" in it. Now, scroll down to find "Google Workspace core services" and click "Gmail" in it.
Now, in the "Email read-receipts," click the edit button on the top-right corner to open the read receipts settings.
There are three kinds of options here.
The first setting, "Do not allow read receipts to be sent," disallows read receipts to be sent and requested globally.
The second setting allows requesting and sending read receipts to those within your organization and whitelisted email addresses.
The third setting allows requesting and sending read receipts to any email address.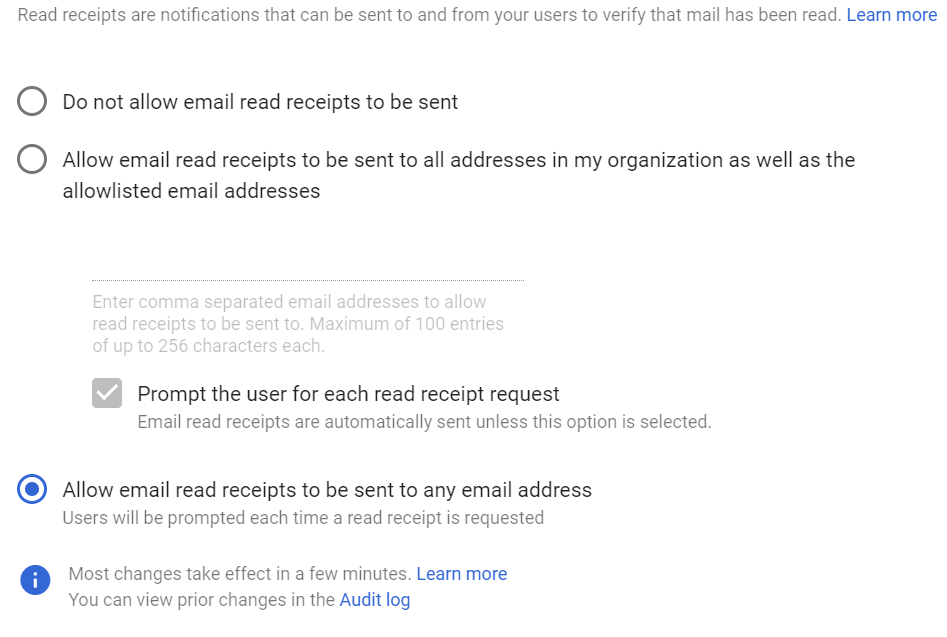 Ensure that "Allow email read receipts to be sent to any email address" is selected here if you want to apply the feature to all email addresses.
Step 2: Click "Compose"
Now that you've enabled the read receipts, it's time to start your email. On your Gmail inbox page, click the "Compose" button.

Step 3: Write out your email
Clicking the Compose button will open a "New message" window. Input the recipient's email address, add an appropriate subject, and enter the email's body text.
Before clicking "Send," click the tiny down arrow on the Send button. Doing this will open up more options.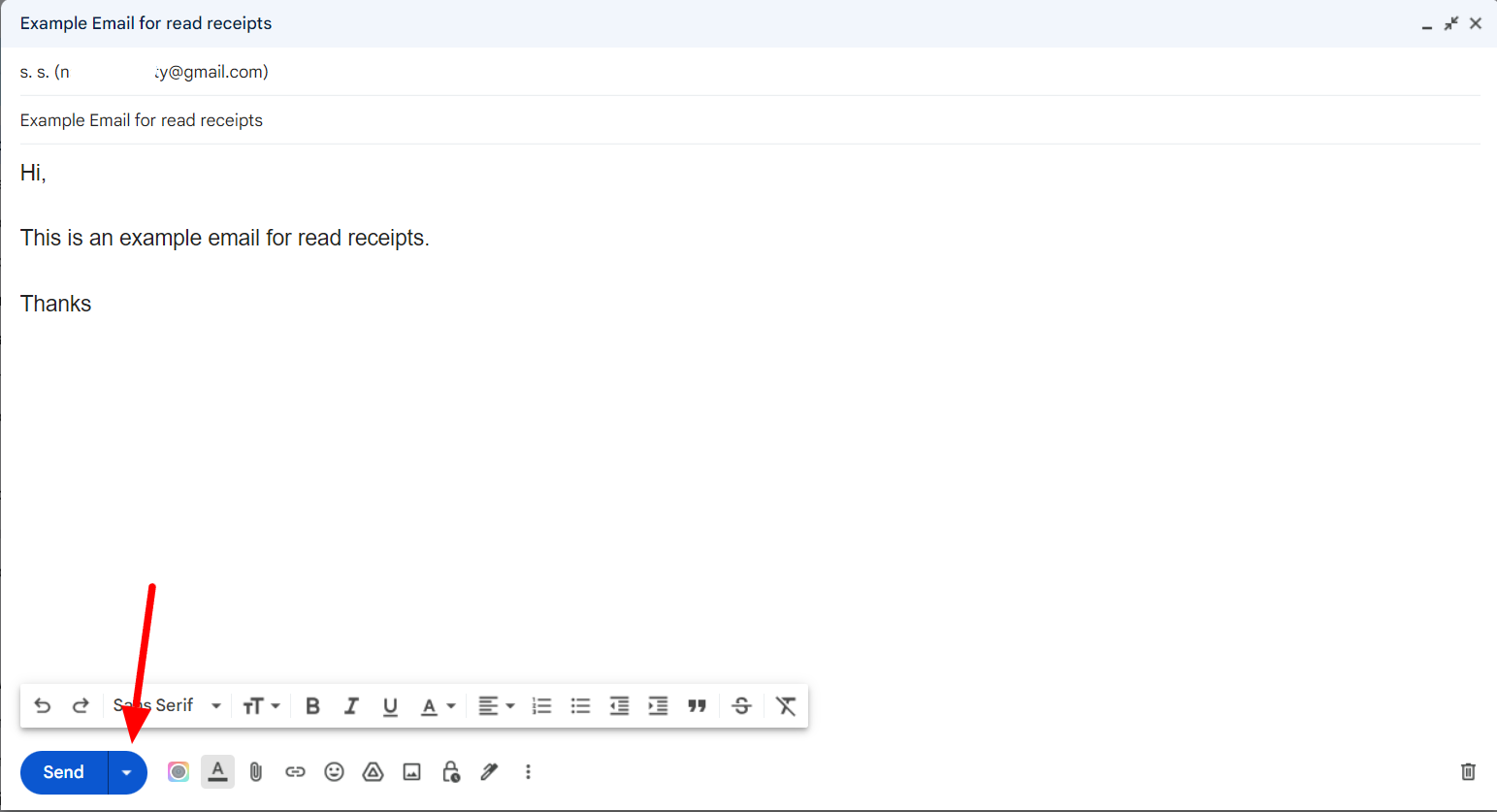 Step 4: Click "Request read receipt"
Find and click "Request read receipt " in the open options.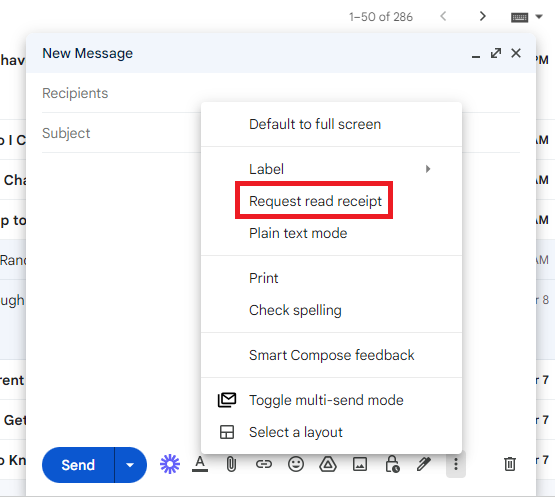 Step 5: Send your email
Once you've enabled the setting, click "Send" to email your recipient. You'll see an "email sent" notification, and that's that. When your recipient opens the email, they will be prompted to return a read receipt.
Important things to know about the Gmail read receipt option
The recipient may have the option to return a receipt
Turning on the read receipt settings at your end is easy. However, it doesn't mean you'll always get a read receipt or a detailed picture of how many emails are opened. There are two reasons for this.
The first is that the admin of the workspace the recipient belongs to may have opted not to send read receipts or only send them to email addresses within the organization.
The second reason is that when you request a receipt, on opening the email, the user is prompted and asked whether or not they want to send a read receipt. Here, the user can decide not to send a read receipt.
In either scenario, you will not receive the receipt.
Read receipts on Gmail have their limitations
You should know read receipts have some considerable limitations.
First, and most obviously, read receipts are only available to Google Workspace users within a particular organization or school. Read receipts are not something you can use in, say, an email marketing campaign. That leaves out a lot of users.
Also, the admin of your organization will have to enable the feature, and you'll have to request read receipts manually. This makes it a pretty unintuitive feature.
All this and the option not to send read receipts make the feature feel unreliable.
A better alternative for email marketers is a mail merge tool
If this is only available for Google Workspace users, what should business owners and email marketers do? Open rates are a significant metric to track when running a marketing campaign with a large email list. In this situation, you should use a mail merge tool.
A mail merge can tell you if the email was received, if it was opened, and if the link was clicked through. You're not going to know the exact time it was opened, but you're getting much better insights than you normally would.
If you're looking for a mail merge that integrates seamlessly with Gmail, you should go for YAMM. YAMM, or Yet Another Mail Merge, is an add-on that allows you to send a mass email right from your Google Sheet contact list, personalized for each recipient. It also lets you know all the above metrics right in your Google Sheet, too.
See when your email is opened with YAMM
Read receipts are available in Gmail, but only for those using a Google Workspace account. Enabling them takes a bit of grunt work, but once you've done it, you can start seeing if and when colleagues open your emails.
However, However, if you're looking for a way to confirm whether your emails are opened or read, there are better alternatives to relying on read receipts. YAMM can tell you if your email was opened without leaving familiar Google products. YAMM also has other features that make sending mass-customized emails a breeze. If that sounds like something your business could benefit from, check out all the features that YAMM offers.