8 Effective Discount Email Examples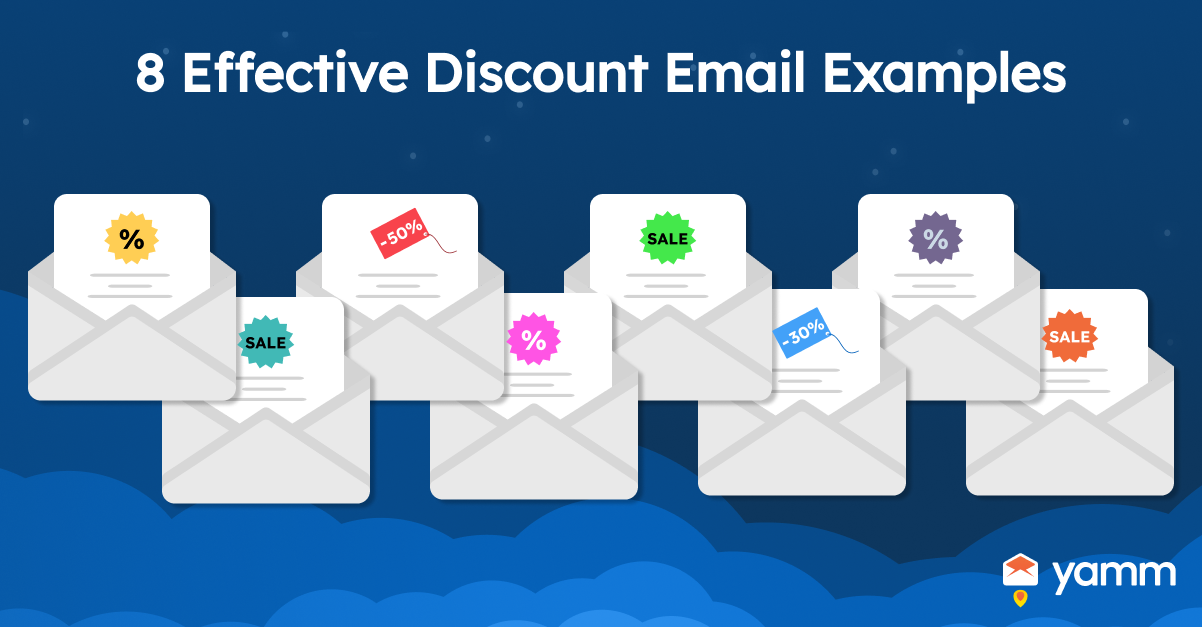 Businesses, especially those in the e-commerce sector, are able to benefit from sending promotional emails to their customer base. Discount emails encourage customers to make a purchase or take action (such as signing up for a newsletter or submitting a review) by offering a discount or special price offer.
There are several reasons why promotional email campaigns are so important. In the first place, they increase business results by convincing customers to buy products. Emails offering special discounts are a great way to attract new customers who are interested in trying out a product or service for the first time. Customers are exposed to the brand and eventually become new customers as a result of these forwarded emails.
Discount emails' success is contingent on a number of variables, such as the intended recipients, the time of the email, and the nature of the email offer itself. It's important to wisely use email discounts and not rely too heavily on discounts to drive sales. Businesses benefit much from discount emailings if they use them selectively and send them to the right people.
Studies show that the open and click-through rates for promotional emails are higher when they include discounts or special offers than when they do not. Customers are more likely to open an email if it contains enticing content, such as a coupon code or a promise of free shipping.
Customers are enticed to make a purchase they have been on the fence about by the availability of discounts. The result is a rise in the company's bottom line. Additionally, giving discounts to loyal customers encourages them to buy from that certain company again.
Offering discounts via email is a successful advertising approach for firms. One strategy some organizations use is to offer discounts to customers when business is slow. Another reason is to get rid of excess stock or low-selling items. Marketing emails are sent to current customers to show appreciation for their business and to potential customers to urge them to try a product or service for the first time. Furthermore, discounts are a great way to get people to check out a company's website and, maybe, buy something from them.
There are concerns to think about when sending out discount emails. One possible downside is that it lowers the value that customers place on a company's offering. Too frequent sales send the message to buyers that the products aren't worth the listed price, which hurts long-term sales and consumer perception of the brand.
Too frequent discounted offers wear out a business' email list subscribers, reducing their open and click-through rates and even causing them to unsubscribe. The product or service's value drops even more if competitors started offering similar discounts.
Businesses lose money when they offer discounts because they bring in price-sensitive clients who are less likely to become repeat buyers. It's important for businesses to be aware of the hazards involved and use them carefully.
1. Give a Birthday Discount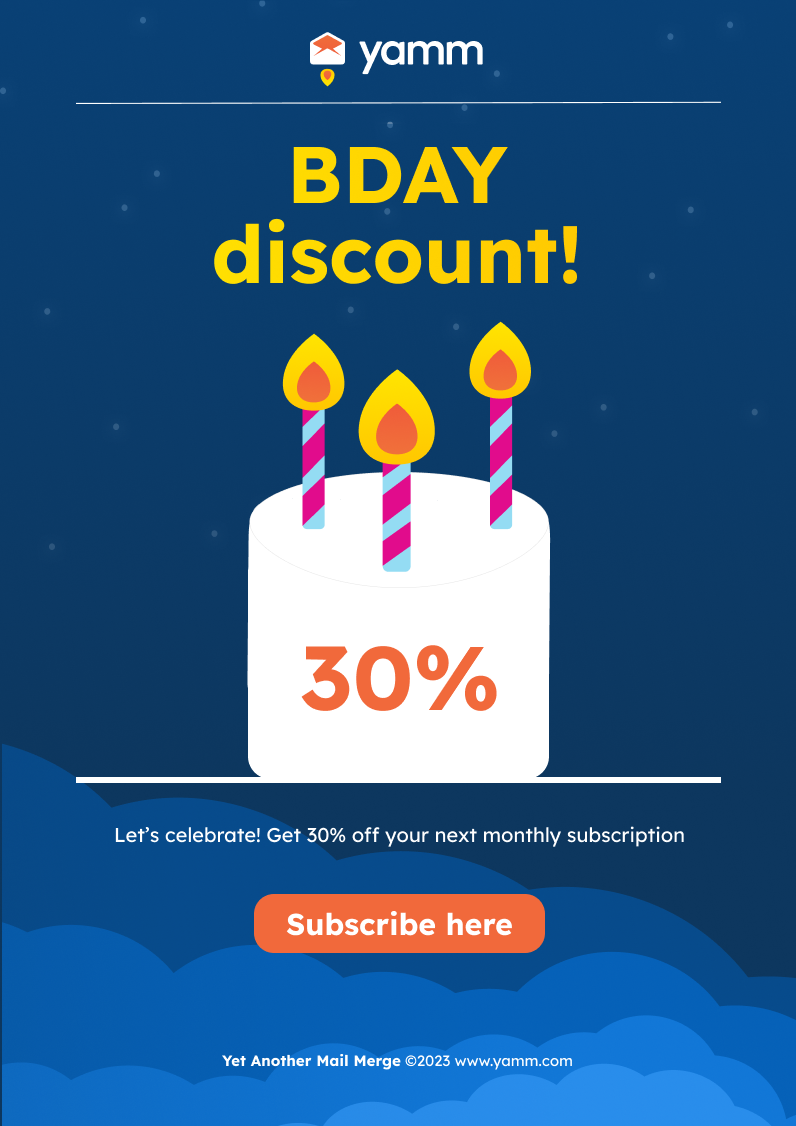 There are several reasons why offering a birthday discount is a successful advertising technique for businesses. Consumers are always on the lookout for ways to save money, and a special birthday offer through email is an enticing incentive to make a purchase. Such is especially true for clients who weren't originally planning to buy but are suddenly spurred to action by the promise of savings.
Customers feel compelled to take advantage of the discount before it expires due to the sense of urgency provided by the limited-time offer. A customer's favorable emotional connection to a company is strengthened when they receive a birthday discount via email. Customers are more inclined to return for future purchases if they have the impression that their business is valued. It has the potential to increase client retention, which in turn helps boost the company's bottom line.
New clients are often attracted through the use of birthday email discounts. Consumers who receive the deal are going to talk about it with their friends and family, which then spreads the word about the company and brings in new customers who weren't aware of it previously.
Ultimately, setting one's company apart from the competition is as simple as sending an email discount to customers on their birthday. Those that do stand out as being more customer-centric and considerate, although not all firms provide such a type of discount.
Overall, businesses boost sales, strengthen customer loyalty, attract new consumers, and set themselves apart from the competition by sending out birthday discounts via email. Businesses use the persuasive power of discounts to expand their customer base and improve consumer satisfaction by generating a sense of urgency, showing appreciation, and rewarding loyal consumers with exclusive perks.
2. Organize a Subscriber Only Offer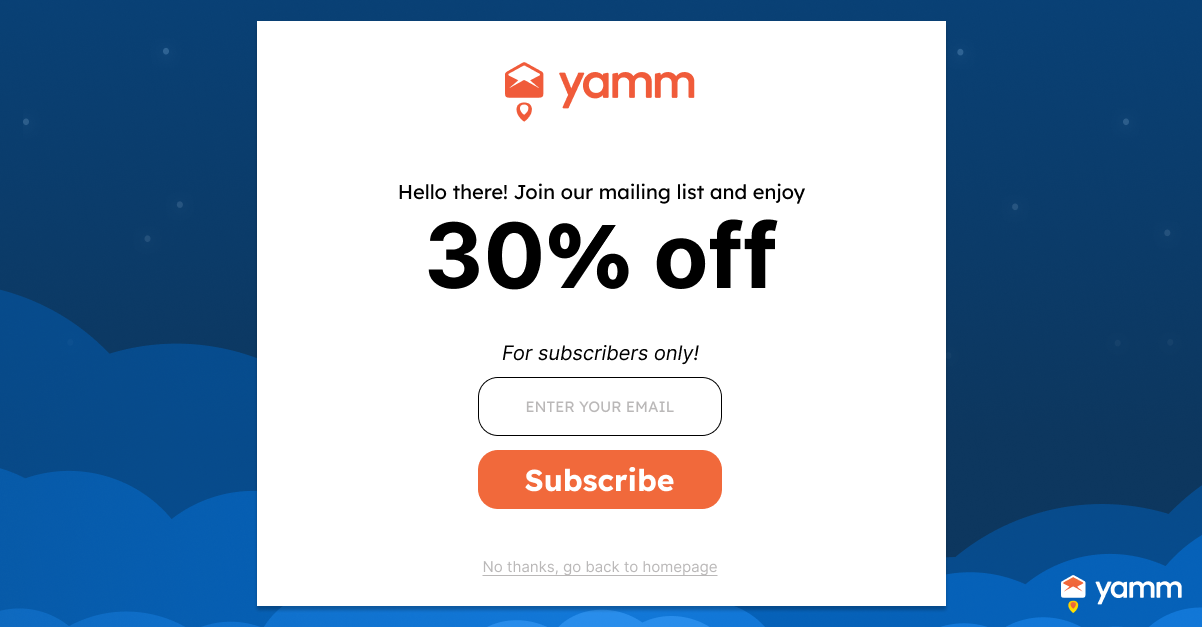 Only those who have subscribed to a given service or mailing list are eligible to receive subscriber-only offers, such as special discounts or other promotions. Such a thing is a standard incentive used by many companies and organizations to get individuals to join their mailing lists or become members.
For example, a business provides a 10% discount on all products and services to email list members but not to the broader public. A subscriber-only promotion is intended to incentivize new subscribers and reward current ones for their continued support.
Several factors such as the type of the offer, the perceived value of the offer, and the customer's relationship with the firm, influence how customers respond to a subscriber-only offer.
Some consumers feel short-changed if a promotion or discount is only available to those who pay a subscription fee. Some customers see the offer as manipulative or too aggressive since they believe it is designed to get them to sign up for the company's subscription service.
On the other hand, subscribers feel special and loved if they are given access to subscriber-only deals. Some clients view the promotion as a thank-you for their continued patronage, and as such, they are more likely to accept the offer.
The exclusivity and sense of urgency created by subscriber-only promotions is an effective marketing strategy. Businesses continue to strengthen their relationship with their consumers and urge subscribers to take action by delivering a limited-time promotion that is only available to a select set of individuals.
Consumers take advantage of a subscriber-only offer since it makes them feel unique and special by being unavailable to everyone else. Moreover, having a relationship with a brand or organization, such as being on a mailing list, makes buyers feel more at ease making a purchase from that brand or organization in the future. Generally, subscriber-only offers are relatively beneficial for both the business and the customer since they encourage customers to take action and make a purchase and because they help the business expand its mailing list and foster a stronger relationship with its patrons.
Customer reaction to subscriber-only deals ultimately hinges on the nature of the deal itself, as well as the customer's values and beliefs in relation to loyalty programs and the desire for exclusivity. Businesses have to keep their consumers' reactions in mind when establishing subscriber-only offers. Ultimately, offers that are fair, honest, and clearly beneficial to their subscribers are what does it best.
3. Arrange Seasonal Promotions
Marketers frequently take advantage of holidays and other seasonal occasions by running special sales and advertising campaigns. Increased sales, client engagement, brand awareness, customer loyalty, and efficient inventory management are just some of the benefits that businesses get from running promotions.
The ability to improve sales by providing discounts or other incentives to customers at certain periods of the year is one of the most important benefits of seasonal promotions. In order to boost sales over the holiday season, certain stores provide discounts on winter apparel.
Seasonal sales are a fun and creative method for businesses to interact with their customers. Businesses appeal to their customers' feelings by planning promotions around holidays and other notable occasions. It has the potential to increase customer involvement and forge a deeper bond between the business and its clientele.
Seasonal promotions not only boost sales and participation; it spreads the word about the business to potential new customers as well. A company's reach and visibility are increased with the help of media coverage and social media shares from a well-executed seasonal promotion. Smaller companies trying to get their names out there, and such activity is invaluable for newer ones.
Boosting client loyalty, seasonal promotions do so by showing appreciation to customers for their continued patronage. Seasonal promotions are a terrific way to make consumers feel valued and appreciated, which in turn increases the likelihood that they continue doing business with the firm in the future.
Lastly, seasonal promotions assist businesses to handle inventory by increasing interest in products that otherwise sit on shelves. Businesses avoid further markdowns or the need to dispose of surplus stock by offering discounts on seasonal items.
Overall, seasonal promotions are a worthwhile marketing strategy for businesses when done right. However, businesses must plan and carry out their seasonal promotions with precision to ensure that they add actual value for customers and are consistent with the company's overarching marketing strategy.
4. Put a Special Offer
Designing and publicizing a time-sensitive sale that features an especially attractive benefit for buyers is what it means to put up a special offer. Offering discounts or other incentives to customers in the form of signing up for a service or mailing list subscription is a common marketing tactic.
Discounts, freebies, bundles, packages, loyalty awards, and incentives for referring friends are only some examples of special offers. The offer must supply clients with something they consider useful in order to motivate them to take action.
Promoting a limited-time deal calls for meticulous preparation and timing. Businesses need to decide what they hope to achieve by doing so when making an offer, such as more sales or new leads. They need to figure out who they're trying to reach with the offer and what channels, like social media and email, in order to produce the best results.
It needs to be advertised so that as many people as possible take advantage of it once the deal is made. It is accomplished through the use of targeted marketing channels, attention-grabbing imagery, and persuasive ad language.
Offering a discount or promotion is a great method for businesses to increase revenue, attract new customers, and maintain existing ones. However, businesses must check that the offer is consistent with their broader marketing plan and is beneficial to customers.
Consumers are always thrilled to take advantage of limited-time promotions that allow them to receive more for their money. Special offers give the impression to clients that they are getting a better bargain than usual by providing discounts, freebies, or other incentives. Customers are more inclined to make a purchase as a result of its higher perceived value.
Value-added promotions do more than just increase customer satisfaction; they help foster brand loyalty and emotional attachment as well. Consumers who believe they are receiving preferential treatment or a good bargain are more likely to have a favorable impression of the business and become loyal to it. Such action has the potential to create loyal customers who keep coming back.
Overall, people appreciate discounts because they allow them to save money while trying out new items or services, increase the perceived value of their purchases, generate excitement and urgency, and strengthen their loyalty and connection to the brand.
5. Show Urgency for the Discount Offers
Creating a sense of time constraint and scarcity to drive clients to take quick action and make a purchase is what is meant by demonstrating urgency for discount offers. Urgency is essential in many marketing methods, particularly for limited-time discount offers, as it creates a sense of FOMO (fear of missing out) that motivates clients to act immediately.
Businesses use a variety of techniques to generate a sense of urgency for discount offers, such as setting a precise end date, limiting the number of products available at the discounted price, or employing countdown timers. Moreover, businesses employ phrasing that stresses the time-sensitive nature of the offer, such as "Hurry, offer ends soon!" or "Limited time only."
Creating a sense of urgency for promotional discounts is an effective approach to enhance conversions and boost sales. Customers feel driven to act quickly in order to take advantage of the discount offer before it expires if a sense of scarcity and time pressure is created. Such urgency generates excitement and expectation among customers, increasing the likelihood that they share the offer with others.
It is essential to establish a balance between urgency and honesty in discount offers. Businesses have to ensure that limited-time offers are actually time-sensitive and do not deceive clients with a false sense of urgency. It is essential to ensure that the discount offer gives actual value to clients and matches the company's marketing strategy as a whole.
6. Provide an Interesting Mystery Sale Discount
Providing an interesting mystery sale discount means offering a discount or promotion to customers, but with a twist: the details of the discount are not revealed upfront. Instead, customers are presented with a mystery or puzzle to solve in order to uncover the discount.
Such an approach is used to generate excitement and engagement with customers, as they get intrigued by the mystery and are motivated to solve it in order to receive the discount. It helps to create a sense of urgency and encourages customers to make a purchase quickly in order to take advantage of the offer.
The mystery or puzzle used to reveal the discount take many forms, such as a riddle, a scavenger hunt, or a quiz. The discount itself is a percentage off the purchase price, a free gift with purchase, or another type of incentive.
Customers generally have a positive reaction to interesting mystery sale discounts because it adds an element of fun and excitement to their shopping experience. Increasing engagement and interest in the promotion is done by creating a sense of anticipation and surprise.
However, it's important to note that the level of customer satisfaction depends on how well the mystery sale is executed. Customers become discouraged or disinterested if the mystery is too difficult or frustrating to solve. On the other hand, if the mystery is too easy, customers end up feeling like they never earned the discount and are not as satisfied with their purchase.
Overall, customers are likely to enjoy the experience and feel positive about the promotion as long as the mystery is well-designed and executed. It helps to build brand loyalty and encourage repeat business from satisfied customers.
7. Welcome Discounts for Subscribers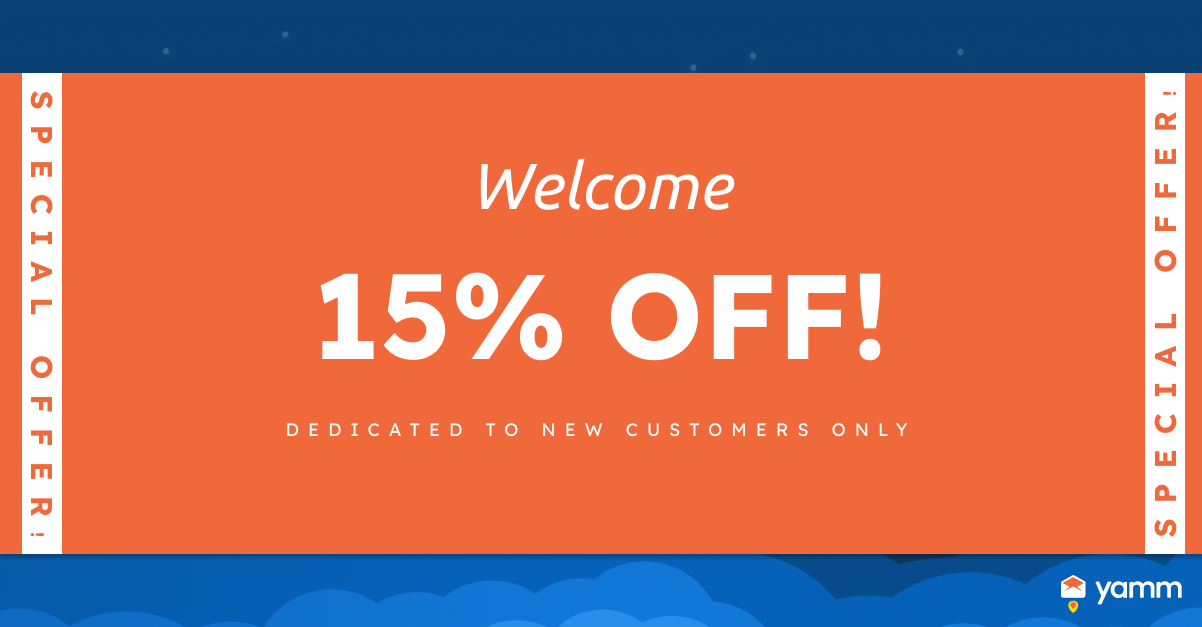 Customers who sign up to receive a business's newsletter or updates are often offered a discount as a "welcome" incentive. Often, such deals are extended to new customers as a method to entice them to make a purchase and to keep them on the company's mailing list.
The welcome offer ranges from a price cut on the first order to free shipping or a freebie with the purchase. Customers receive the coupon code through email after signing up for the newsletter.
There are many reasons why giving new subscribers a special price is a good marketing move. First, it provides a direct advantage to subscribers and hence encourages more people to sign up for a business's mailing list. Consumers are more inclined to subscribe if they believe in some benefit in some way, such as receiving a price reduction or a freebie.
A subscriber's initial purchase is incentivized by a special discount just for signing up. Providing a price cut is one way a business encourages new clients to give its products and services a try. It is especially relevant for companies operating in highly competitive markets, where consumers have many different options.
Providing a first-time customer discount is a great way to gain repeat customers and strengthen brand loyalty. They are more likely to come back and buy more if clients have a good first time buying from the company. Subscribing clients are more invested in the company's products and promotions, which boosts sales in the long run.
Consumers enjoy discounts because it makes them feel like the company values them. It demonstrates the company's dedication to the connection and the value it intends to bring to the customer. Businesses reap long-term benefits from increased trust and brand loyalty if they take such steps.
Overall, giving new members welcome emails is a great way to gain their loyalty and attract new ones to the business. Companies boost client engagement and long-term revenue by rewarding new subscribers with discounts on their initial purchases.
8. Put a Discount Word in the Subject Line
One proven strategy for raising the open rate of an email marketing campaign is to use a discount phrase in the subject line. Customers are more likely to open an email if they know it contains a discount or special deal.
An email's open rate and clickthrough rate are greatly improved by including the word "discount" in the subject line. When consumers get an email, the subject line is the first thing they see and is a major factor in whether or not they choose to open the message.
Sale, discount, and coupon are all powerful discount keywords that represent the value of the email and entice recipients to click through. Discount terms in the subject line catch the eye of consumers who are always on the lookout for methods to save money and encourage them to click through to the content.
Promotional phrases, such as discounts, boost conversion rates in addition to email campaign open rates. Customers are more likely to make a purchase or sign up for a service after opening an email if they expect to see some sort of offer or promotion inside.
But utilize discount words carefully and don't overdo them in email marketing. Marketers risk having their customers tune out their messages if they send too many emails. It's important to strike a balance between discount words and other techniques if a company wants their email marketing fresh and interesting.
One of the most important things to do to boost the success of a business' email marketing is to use discount language in the subject line. Attracting customers' interest and encouraging them to participate effectively boost sales and cement brands' standing in their minds.
What is the Importance of Discount Emails?
Several companies' marketing plans include sending out promotional emails with discounts to customers as a means of encouraging them to make a purchase. Customers who were on the fence about making a purchase are persuaded to pull the trigger after receiving a discount offer in their email. Businesses are able to enhance their sales by encouraging clients to make a purchase they have put off without the discount.
Customer loyalty is strengthened through the use of email discounts as well. Customers are able to tell that the brand values them more when they receive special offers in their inboxes. Customers who have a good time shopping with the company are more likely to buy from them again in the future. Moreover, reminding clients via email of the savings available to them is an excellent way to keep them invested in the business.
Lastly, sending out discount emails is a very efficient way to sell off excess stock. Businesses are able to make room for new products and get rid of slow-moving inventory by discounting slow-moving items. Doing so protects them against the necessity for steep price cuts down the road, which often eat into profits.
Nonetheless, promotional emails are to be used thoughtfully and intelligently. Using sales too frequently ends up hurting the profits and gives consumers the impression that the company is continually trying to get rid of inventory. Hence, firms need to find a happy medium between discounting and losing money.
Overall, firms are able to boost revenue, customer loyalty, and inventory turnover by sending out promotional emails. Businesses boost sales, and customer loyalty, and make room for new products by emailing subscribers special offers. Businesses need to strategically implement discount policies to keep their profit margins and credibility intact.
How Effective are Discount Emails?
The success of a company's discount email campaign depends on a number of things. One crucial aspect is the size and activity of the email list. Customers are more likely to open and interact with discount emails if the company's email list is large and active. Yet, if the email list is short or the recipients are disinterested, promotional emails end up not being viewed.
The time and regularity of email communications are very crucial. Sales are boosted by strategically sending discount emails before major holidays or during slack times. Clients stop paying attention to these emails when they are bombarded by it, making the brand suffer as a result.
The success of discount emails is dependent on the nature and magnitude of the discount being offered. A larger discount (say, 30% off) is more beneficial than a smaller discount (10% off) in some cases. Additionally, it is more effective to offer a discount only on a select product or category rather than on the full purchase.
Additionally, the intended recipient is crucial to the success of promotional emails. Emails become more relevant and effective if they are tailored to specific consumer segments based on interests, purchase history, and behavior. Customer loyalty and community are strengthened through personalization.
Overall, when used carefully and sparingly, discount mailings serve as a powerful tool for organizations. Discount emails help drive purchases but they lower the value of an average sale and eat into a company's profit as well. Emails offering discounts are more or less successful depending on a number of variables, such as the size and activity of the recipient list, the nature and magnitude of the discount being offered, the time and frequency of the emails, and the intended audience.
Businesses are able to increase their revenue, customer retention, and brand engagement by sending promotional emails to targeted consumer segments after giving due consideration to the aforementioned aspects.
Why is it Necessary to Send Discount Emails?
Discount emails are an effective marketing strategy for businesses for several reasons. Promotional emails are able to assist firms to increase revenue.  Businesses encourage clients to buy products or services they were on the fence about by offering a discount or promotion via email. Such a strategy is especially useful when promoting new or seasonal products, or when business is slow.
Discounted offers are an effective marketing tactic used by businesses to attract customers and drive sales. They come in different forms, including percentage discounts, flat-rate discounts, buy-one-get-one-free offers, and free shipping.
Customer loyalty and retention are boosted with the help of email discounts. One way companies show customers they appreciate their business is by rewarding their loyalty with special deals available only to email subscribers. Email discounts have the potential to encourage repeat business from existing clients.
Additionally, businesses are able to clear out old stock and make room for new products by offering discounts on items that aren't selling well, which therefore prevents the necessity for steep price cuts down the road that eat into the profits.
Lastly, sending out promotional emails helps businesses keep up with the competition. Businesses win over new clients and keep loyal ones by providing them with promotional discounts and sales. It is very crucial in highly competitive or saturated markets.
Businesses need discount emails because they help with sales, customer retention and loyalty, surplus inventory clearance, brand engagement, and industry competitiveness. Benefiting from the effectiveness of discount email marketing requires smart and moderate use.
What are the Benefits Sending Discount Emails for your Email List?
Sending discount emails to an email list provides several benefits for businesses, including the following:
Driving sales. Businesses enhance their revenue by offering discounts to clients who did not have otherwise made a purchase.
Improving customer retention and loyalty. Businesses demonstrate that it values their consumers and encourages them to return for future transactions by providing unique discounts to email subscribers.
Increasing engagement with the brand. Reminders of the advantages of buying with the brand on a regular basis help retain customers, and targeted discounts boost the relevancy and efficacy of the emails.
Clearing out excess inventory quickly. Providing discounts on items that aren't selling well assists businesses in reducing inventory and making room for new products.
Staying competitive in the industry. Providing discounts and promotions enable enterprises to attract new customers and encourage existing customers to continue shopping with the brand, allowing them to remain competitive in the market.
Cost-effective marketing. Sending discount emails is a cost-effective method of promoting products and driving sales compared to other kinds of marketing.
Measurable results. Email marketing enables businesses to track the success of their efforts, including open rates, click-through rates, and conversion rates, which allows them to tweak their plan for optimal efficiency.
Overall, sending discount emails to a company's email list is an effective marketing strategy for driving sales, improving customer retention and loyalty, increasing brand engagement, clearing out excess inventory, maintaining industry competitiveness, and achieving cost-effective and measurable marketing results.
What are the Risks Sending Discount Emails for your Email List?
While sending discount emails to an email list gives various benefits, businesses ought to be mindful of the potential risks involved. Included among the dangers are:
Decreased brand value. Customers tend to identify a business with constant discounts and promotions if they receive an excessive number of discount emails.
Customer dependency on discounts. Customers develop a culture of dependence if they only make purchases when discounts are available rather than at regular rates if frequent discounts are offered.
Reduced profit margins. Repeated discounts erode profit margins, particularly if they are not balanced out by additional sales.
Increased competition. Competitors are encouraged to to offer comparable prices as well once they see how frequent discounts attract new clients.
Reduced engagement. Customers tend to tune out emails that they consider to be of low value if a company sends too many discount communications, resulting in a reduction in brand engagement.
Companies have to wisely and moderately employ discount email campaigns to reduce these dangers. Moreover, they ought to be honest with their clients and guarantee that their discounted deals are financially viable. Businesses are able to gain the benefits of such a marketing approach while limiting the possible risks by employing discount email campaigns in a focused and strategic manner.
How to Write a Discount Email Offer?
It is essential to make the offer clear, attractive, and simple to comprehend for the customer when writing a discount offer. Listed below are the six steps to writing a discount email offer.
Make the offer clear. Employ clear and succinct language to communicate the offer's information, such as the discount amount or percentage, any restrictions, and the offer's expiration date. Make sure that the customers are aware that sales are time-limited.
Highlight the value. Write an attention-grabbing headline mentioning the occasion/ saving percentage/ time frame/special gifts. Highlight the benefits the customer gains if they accept the offer. For instance, include the actual dollar amount the customer saves if the offer is a percentage discount.
Use a clear call to action. Add a prominent call to action, such as "Buy now and save" or "Get a discount right away."
Personalize the offer. Consider tailoring the offer to the customer's preferences or previous purchases. For instance, if a consumer has previously purchased a specific product category, offer a discount on a similar product.
Make it easy to redeem. Make sure that the process for redeeming the offer is straightforward and simple for the customer. Provide any applicable codes or instructions, and ensure that the offer is valid for all applicable products or services.
Test and refine. Determine which discount offers are most efficient in increasing sales and attracting customers through testing. Refine the strategy based on the outcomes.
Businesses are now able to create discount offers that are clear, persuasive, and effective at generating sales and retaining consumers just by following these guidelines.
What are Effective Templates for Discount Emails?
The most effective discount email templates change from product to product, audience to audience, and brand strategy to brand strategy. The first step in getting people to open the email is to use a subject line that stands out. It is helpful to include eye-catching visuals like photos of the product, animated GIFs, or short films to increase the email's readability and click-through rate. Subscribers are prompted to take action and make a purchase when presented with an enticing call to action (CTA).
The following are some tried-and-true methods, as well as standard formats used by firms for sending out promotional emails:
Seasonal Sale for Fashion Items:
Subject Line: Spring Sale Alert: Get 25% Off Your Next Purchase Today!
Dear [Subscriber Name],
Spring is in the air, and we're excited to offer you an exclusive discount of 25% off your next purchase. Whether you're looking for a new [Product Category] or [Product Category], we have something for everyone.
Use code SPRING25 at checkout to claim your discount. But hurry, this offer is only valid for a limited time!
Shop now and upgrade your [Product Category] collection for the season. Don't wait, take advantage of this amazing offer today.
Best regards,
[Your Name]
Product Services:
Subject Line: Introducing [Your Company] - Your One-Stop Solution for [Service Category]
Dear [Recipient Name],
We are excited to introduce you to [Your Company], your one-stop solution for [Service Category]. Our team of experts specializes in providing high-quality and personalized [Service Category] solutions to help you achieve your goals.
At [Your Company], we understand that every client is unique, which is why we take a personalized approach to every project we undertake. Our team of skilled professionals will work closely with you to understand your specific needs and develop a customized solution that meets your requirements.
Our range of services includes [Service Category], [Service Category], and [Service Category], among others. Whether you need help with [Specific Service], [Specific Service], or [Specific Service], we have the expertise and experience to provide you with the best possible solution.
To make things even easier for you, we offer flexible pricing and payment options to suit your budget and timeline. Our goal is to provide you with a seamless and hassle-free experience, from the initial consultation to the final delivery of the project.
If you're interested in learning more about our services or would like to schedule a consultation, please feel free to reach out to us at [Your Contact Information]. We look forward to hearing from you soon.
Best regards,
[Your Name]
[Your Company]
New Beauty Products:
Subject Line: Introducing [New Product]: Get 10% Off Your Purchase Today!
Dear [Subscriber Name],
We're thrilled to introduce our latest product - [New Product]. Whether you're looking for [Product Benefit], [Product Benefit], or [Product Benefit], our latest product has got you covered.
To celebrate the launch, we're offering you an exclusive discount of 10% off your purchase. Use code NEWPRODUCT10 at checkout to claim your offer.
Shop now and be one of the first to experience the power of [New Product]. But hurry, this offer is only valid for a limited time!
Best regards,
[Your Name]
In order to persuade subscribers to make a purchase, these templates have been designed with clear subject lines, eye-catching imagery, and a strong call to action. These layouts are able to boost sales and keep members interested through the use of scarcity, social proof, and clear communication.
What are the Factors you should Consider when Creating Discount Emails?
There are several factors that businesses have to consider when creating Discount Emails to ensure that the email is effective and achieves its desired outcome. Listed below are the factors that must be considered when creating discount emails.
The target audience. Evaluate the taste and preferences of the intended audience to ensure that the discount offer is beneficial and relevant to them.
The value of the offer. Ascertain that the value of the discount offer is sufficient to motivate clients to take action. Evaluate aspects such as the percentage discount, the actual dollar amount saved, and any other incentives.
The email design. Develop an email design that is professional and consistent with the brand's visual identity. Use high-quality pictures and distinct calls to action to increase click-throughs.
The subject line. Create a subject line that clearly communicates the offer's value and encourages readers to open the email. Moreover, it is important to remember that personalization increases open rates.
The timing. Consider the day of the week and the time of day while sending the email. Determine the most effective timing strategy by comparing other approaches.
The frequency. Avoid sending too many discount emails to avoid reducing their effectiveness and developing client weariness. Establish a frequency that strikes a balance between the need to advertise products and the requirement to retain consumer involvement.
The segmentation. Use segmentation to personalize the discount email for distinct consumer groups based on past purchases, browsing behavior, or demographics. Doing so boosts the email's relevancy and effectiveness.
Businesses are able to build appealing offers that are relevant, valuable, and effective at generating sales and audience engagement simply by taking into consideration the aforementioned factors.
Do Subscriber Likes Discount Offers?
Yes, subscribers appreciate discounts because they provide a clear incentive to make a purchase or take action. Subscribers are able to save money on products or services they were already considering with discounts, making them feel as if they are receiving a good deal. Additionally, discount offers create a sense of urgency and motivate subscribers to act quickly, thereby boosting sales and revenue.
Moreover, discounts help businesses build and retain a loyal subscriber base. Businesses demonstrate their appreciation and encourage them to continue engaging with their brand by providing subscribers with exclusive discounts. Such action leads to increased customer retention and lifetime value, as well as positive word-of-mouth marketing, as happy subscribers spread the word about their positive experiences. Overall, discounts serve as an effective method for businesses to engage their subscribers, increase sales, and foster customer loyalty and satisfaction.
Is there a Risk of Losing Subscribers when Sending Discount Emails?
Yes, sending subscribers an excessive number of discount emails or discount offers that are not relevant or valuable often leads to email fatigue or annoyance. They tend to lose interest in the brand or even unsubscribe from the email list if subscribers believe they are receiving spam or irrelevant offers.
Additionally, they begin to believe that the brand is more concerned with making a sale than providing value or building relationships with its customers if subscribers feel pressured to make a purchase or that the brand is constantly pushing sales and promotions.
Moreover, excessive discounts erode the perceived value of the brand and its products, causing subscribers to question the quality and long-term value of the offered products or services. Such practice has long-term negative effects on the brand's reputation and image.
Therefore, businesses ought to strike a balance between providing subscribers with valuable discounts and bombarding them with too many irrelevant or overly aggressive promotions. Businesses create more targeted and effective discount offers while maintaining a positive relationship with their customers by understanding their subscribers' interests, preferences, and purchasing behavior.
Can I Send Promotions and Discount Offers at the same time?
Yes, users are able to send discounts and promotions at the same time. Combining offers with discounts is an effective tactic for attracting subscribers and boosting sales. Promotions encompass a wide range of marketing and sales strategies that begin before someone becomes a customer unlike discounts, which only refer to the price and actual sale of a product.
Promotions, such as product launches or special events, are utilized to generate anticipation and curiosity in a company or its products. Discounts provide clear incentives for subscribers to make purchases or take action. Businesses create a sense of urgency, motivate subscribers to act quickly, and generate interest in customers by combining these two techniques.
A company, for instance, sends an email announcing the launch of a new product and offering a discount code to subscribers who purchase the product within a certain time frame. These actions generate a sense of urgency and exclusivity, as email list subscribers believe they are receiving a special offer. Additionally, the promotion of the new product generates enthusiasm and interest among subscribers who are interested in purchasing it.
However, it is necessary to ensure that the promotions and discounts offered to subscribers are valuable and relevant.Email fatigue and a decline in engagement are common results if the offers are too frequent or not tailored to the subscribers' interests and preferences. Businesses create discounts and promotions that increase engagement and revenue by understanding the needs and interests of their subscribers.
What is the Difference between Discount Emails and Promotional Emails?
Promotional and discount emails play a vital role in email marketing, but they do so in different ways. The goal of sending out discount emails is to encourage customers to make a purchase or make certain decisions by providing a clear incentive, such as a discount.
It's common practice to use discount or incentive offers as the main selling point in promotional emails for certain products or services. A deadline or expiration date for the offer is sometimes included in discount emails to create a sense of urgency and encourage recipients to act immediately. Discount emails aim to boost sales and revenue by offering readers a compelling cause to make a purchase.
However, promotional emails are sent with the express purpose of advertising a good, service, or event. New product releases, future sales, and other limited-time offers are common topics for such mailings. Promotional emails, on the other hand, focus on promoting the brand or product itself.
They are secondary to the advertising of the product or service itself. The deadline for responding to a promotional email is usually more relaxed, unlike urgent phone calls. Promotional emails are sent out to raise brand recognition, interest, and participation.
Promo emails are designed to establish relationships with subscribers and promote the brand over the long term, while discount emails are used to boost short-term sales and money. Organizations need to use both discount emails and promotional emails in their email marketing plan in order to achieve their aims and objectives.