How to Create and Write Effective Fundraising Emails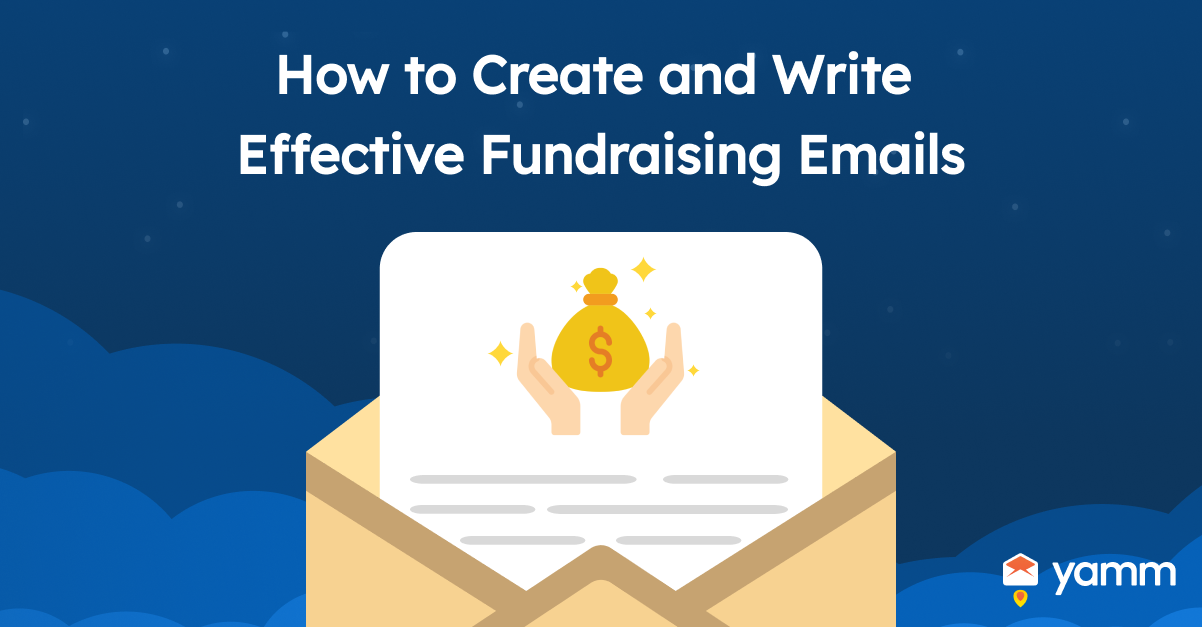 Fundraising emails are electronic messages that are written particularly to solicit funds from a group of audience. It is primarily used by various charities and cause-based organizations in order to acquire sizable portions of money for their operations or for certain projects. Nevertheless, fundraising emails necessitate two actions from the audience to make it successful. The first one is to encourage audiences to open the email, and the second one is to persuade them to respond to the message positively.
The creation of the first-fundraising email revealed no precise date. However, the first electronic mail was written in 1971 by Ray Tomlinson, who was credited as the email's creator. He crafted the first email when he was employed by a government-sponsored research organization called ARPANET, for the purpose of leaving a message to the next computer user in the facility.
The origin of the concept of fundraising email is derived from the early ideas of charitable giving way back in the 1900s to help people who are in great need directly or by means of certain organizations. The custom of sending fundraising emails is thought to have developed as email usage grew and people began to rely on digital communication for a variety of functions in the late 1990s and early 2000s. The utilization of fundraising email for online solicitations is broadly accepted in modern times, as it greatly helps in conducting online solicitation from a greater number of audiences in a faster and more convenient way.
There are statistical reports which prove the popularity of Fundraising emails. One of these reports from doublethedonation.com states that nonprofit organizations deliver an average of 3 email newsletters and 2 contribution appeals every month. The same report additionally indicates that nonprofit groups are able to raise $42 on average for every 1,000 fundraising emails they send to online audiences, from which small organizations generate the highest donation revenue per email. A separate study from nptechforgood.com, shows that 68% of non-profit organizations send email fundraising solicitations every quarter, 20% each month, 7% twice a month, 3% each week, 1% every twice a week, and 1% each day. Non-profit organizations are able to raise $78 in 2023 from $45 in 2020 for every 1,000 fundraising emails they send, according to the M+R Benchmarks Report. The same study from nptechforgood.com points out that 74% of organizations frequently send fundraising emails. Email is considered the kind of contact that most motivates 26% of online contributors to make a donation, according to the 2020 Global Trends in Giving Report.
Fundraising email is important for email marketing because it helps in engaging people and lets them know about the organization's crucial goals. Email marketing is one of the finest methods for non-profit groups to communicate with supporters due to the fact that most nonprofit employees struggle with a shortage of time and even a lack of manpower. Fundraising email campaigns create a devoted donor base, extend their horizons, and encourage additional donations when administered within email marketing. Additionally. non-profit groups and certain organizations are able to express gratitude to donors and recognize the difference they are making by sending them messages through the use of email.
Listed below are the 14 ways how to create a fundraising email.
Prepare the database for fundraising emails. A well-prepared database consisting of emails for fundraising helps boost donations and donor retention rates. It is known that non-profit organizations are able to tailor the tone and information they showcase in the email by properly preparing the list of contributors that they have.
Create a compelling subject line to convince Fund Owners. Fundraising emails having a compelling subject line raises the chances of the emails being opened. Convincing subject lines make the email stand out among other messages in the inbox.
Correct your formatting with formal language use. It is very important to have the right format when it comes to fundraising emails. The language, specifically, needs to be accurate and relevant to the tone and the topic of the email being delivered.
Tell an interesting tale for Fundraising. The basis of a great fundraising email is a compelling narrative. The recipients are able to get a look into an organization's world through the story they tell, which serves to reinforce the significance of their objective at the same time.
Use one Call to Action inside Fundraising Emails. A well-written fundraising email doesn't lose the readers' attention, which is why it is necessary to use just one CTA or call-to-action. The email must be accurate and not indirect. Fundraising emails that have oblique causes recipients to skip the email and go on to the next message.
Establish a measurable influence for Fundraising. A tangible purpose must be indicated in the fundraising email. It is critical to make it apparent to the readers how their contributions are going to make a difference. Giving them specific instances of what their future contributions are a great way to persuade them to confer to the request.
Make a strong conclusion. Email writers for fundraising campaigns are often challenged with how to end the email properly. Nevertheless, they need to be especially certain about their intentions in asking for donations at the end of the email. It is the moment to really get to know the donor and to be in tune with them. It is a great strategy to thank the benefactors and remind them of the significance of their contributions.
Make donating simple. It is vital to make it simple for readers to give. Having a complicated donation process and an inconvenient website causes donors to flee. It is best for email writers or non-profit organizations to use online donation systems in order to make giving convenient and time-saving,
Keep an eye on and assess your emails. Tracking and evaluating email outcomes is quite essential for campaigns using fundraising emails. Non-profit organizations need to utilize online trackers having KPIs or Key Performance Indicators to know whether the fundraising emails are successful or not.
Tell them what their money will do. It is essential to tell where the donations are going, in the first few phrases of the fundraising email. Most readers are expected to be inquisitive about why money is being raised and how it is going to be utilized.
Avoid requesting money in the opening email. The goal of the email to gather donations must be expressed within the first two paragraphs of the email content. However, getting right to the point of the email is valued by most readers stating it at the start of the email is expected to turn people off the campaign.
Divide Up Your Donor List. Dividing the Donor list or commonly called segmentation is an effective strategy to personalize fundraising emails to appeal to the recipients and elicit a donation more successfully by stirring up an emotional response.
Brand your images and colors. One of the ways to effectively craft a fundraising email is to utilize appropriate colors and images for branding. It is important to use appropriate colors, logos, key phrases, and other details to build brand recognition and increase audience confidence in the communications that are sent to them.
Boost delivery rates and prevent spam. The delivery rate needs to be enhanced to come up with a successful fundraising email. The same thing goes for preventing spam.
1. Prepare your database for Fundraising Emails
One of the ways to create an effective fundraising email is to prepare the database for it. A database is a methodical gathering of ordered data, usually kept electronically in a computer system. Providing pertinent content for emails for fundraising is the main goal of database preparation. Preparing a database for fundraiser emails helps nonprofit organizations tailor the tone and information in the email content. It encourages readers to interact with the nonprofit organization in a way that suits their current condition as donors. The database for fundraising emails is organized according to a number of factors, such as age, gift amount, date of the most recent contribution, and regularity of giving, being some of the most popular.
The benefit of preparing a database for fundraising emails is that it raises donations and donor retention rates. It keeps the contributors from getting content that is irrelevant to their part which leads to continued donations. Database preparations help create trust and enable the organization to use data to strategically boost donations.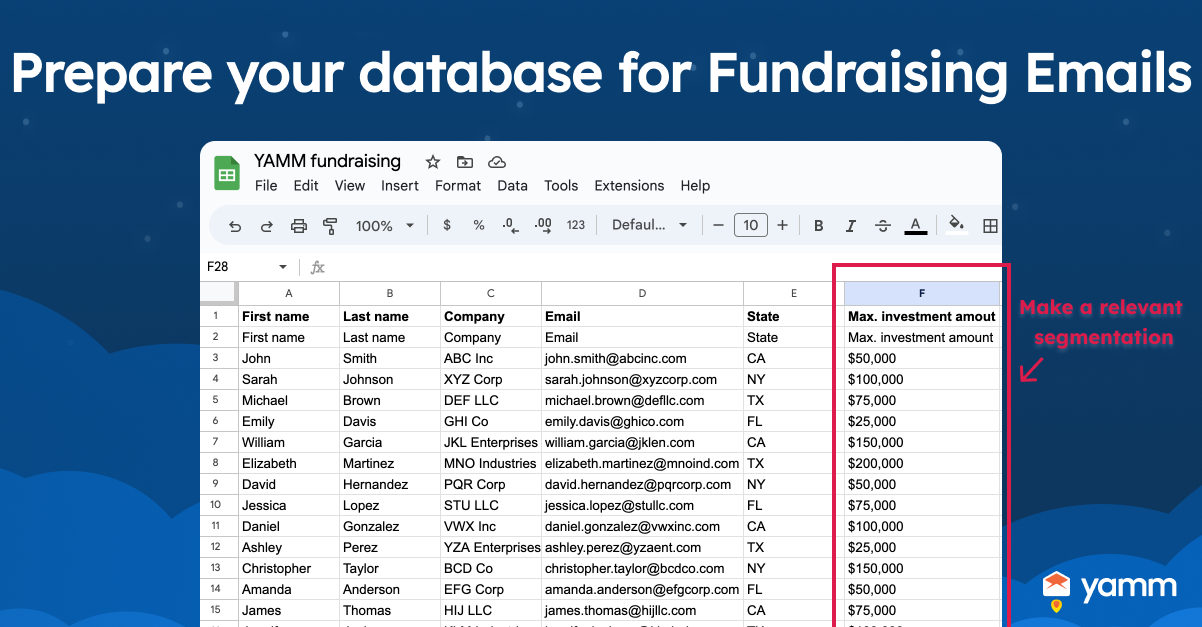 2. Create a compelling subject line to convince Fund Owners
An effectively written email for fundraising is created with a compelling subject line to convince fund owners. The topic line is the first sentence or phrase that recipients are able to see from a list of emails in a reader's inbox. Therefore, composing a catchy topic line is an essential factor to persuade benefactors.
There are tips on how to write a captivating subject line. One of which is to shorten the topic lines, particularly between 4 and 15 characters long. It must employ words like "urgent" and "essential," to convey a sense of urgency and must be precise. Subject lines must always be relevant to the email's content. Deceptive and misleading topic lines are unacceptable and, in certain countries, illegal. However, the open rates are expected to rise especially when the subject line is intriguing or asks a question. Additionally, using the contact's first name in the subject line to personalize it is a great way to catch the reader's attention.
The benefit of creating a compelling subject line in the fundraising email is that it enhances open rates and improves recipient engagement. Having a strong subject line makes the email stand out from all other messages, which persuades the recipients to open the message and contribute willingly.
3. Correct your formatting with formal language use
Another way to successfully create a fundraiser email is to correct the formatting with formal language use. It is crucial for fundraising emails to be written properly, utilizing an appropriate layout and formal language, to convey competence and gravity. Emails for fundraising must be crafted using a formal tone and appropriate terminologies which necessitates avoiding slang, contractions, and too informal terms. A convincing tone that is both respectful and informed must be chosen instead. The organization's mission and goals, as well as the effects brought by such donations, need to be explicitly stated in the email. The success of a fundraising email is significantly impacted by a well-formatted and properly written fundraising email. Potential benefactors are more likely to donate to the cause if a clear and compelling message is presented to them.
The benefit of correcting the format through the use of formal language in the fundraising email is that it boosts clarity and persuasion, generates a professional image, establishes credibility, keeps consistency, and eventually increases donations. The use of proper formatting and formal language conveys competence and seriousness, contributing to the development of the organization's professional image. Potential contributors are more likely to take a fundraising email seriously when it is properly prepared and presented in the official language. A formal tone is more persuasive when writing a fundraising email since it shows respect and appreciation for the recipient's potential donation. Consequently, the recipient is going to have an easier time following the organization's message and comprehending its objectives if the language being used is consistent throughout the email. An email additionally becomes more persuasive in persuading potential donors to donate to the cause, which results in increased donations.
4. Tell an interesting tale for Fundraising
Fundraising emails usually tell an interesting tale for fundraising. It is one of the ways to come up with effective fundraising emails. Most people have an innate desire to react to stories. Tales or stories have been used to connect with people, share experiences, and spread information throughout the years. It is considered effective when starting a fundraising campaign as well. The reader gets a look into the fundraiser's world through storytelling which serves to reinforce the significance of their objective.
There are certain ways fundraisers need to follow to properly employ storytelling in a fundraising email. Some of these ways include; sharing a story that touches people's hearts, having a main character or a hero in the story, utilizing plain-everyday terms, and employing eye-catching images to support the narrative. Additionally, fundraisers need to provide tales that distinctly illustrate the effect of the contributions that benefactors are going to make, lead the readers to the dramatic arc written, use words that evoke a mental image and engage all the senses, make sure to address the certain questions in the email such as "Why should I care?," "How will my contribution be used?" and "What should I do or how am I going to be of assistance?". Lastly, non-profit organizations need to concentrate on a single program or project when incorporating a story in emails for fundraising.
The benefit of telling an interesting tale for fundraising emails is that it helps to attract potential contributors and persuade them to make a donation. Non-profit organizations are able to improve the efficiency of their campaigns and meet their fundraising objectives by utilizing stories in their fundraising mailings.
5. Use one Call to Action inside Fundraising Emails
The use of one call-to-action inside fundraising emails is another effective strategy to create successful emails for fundraising. The call-to-action is used as a tool to determine the respondents' reactions toward the email. Most email campaigns usually employ more than one CTAs in the email content to ensure getting feedback from the respondents. However, it does not work the same for fundraising emails. Using various CTAs in one fundraising email is expected to mislead readers. Fundraisers need to be exact with their purpose and be clear with their CTA, instead.
The benefit of using one CTA or call-to-action inside a fundraiser's email is that it boosts conversions, focus, simplicity, clarity, and return on investment. Simplifying email and making it clear what action is desired allows non-profit organizations to increase the efficiency of their fundraising campaigns and accomplish their objectives.
6. Establish a measurable influence for Fundraising
Successful fundraising emails need to establish a measurable influence on their readers. It is one of the ways that help non-profit organizations to formulate emails for fundraising. It is vital to make it apparent to the readers how their contributions are going to make a difference. Stating where the funds are going is an essential technique in persuading people to donate. The donation amounts need to be connected to the particular results or consequences.
For instance, fundraisers are able to state that the benefactors' $200 is going to buy the tools required to arrange a river clean-up or that $50 is going to help buy school supplies for a student from a low-income home.
The benefit of establishing a measurable influence for fundraising emails is that it aids in giving organizations insightful information that is relevant in assessing and enhancing the success of their efforts. Nonprofit organizations are able to enhance their fundraising techniques and accomplish particular objectives by measuring important metrics and using data to guide decision-making.
7. Make a strong conclusion
Another way to create emails for fundraising effectively is to make a strong conclusion for it. Making a strong conclusion for fundraising emails means that an appropriate tone is incorporated to it in the last section of the message. However, setting the right tone at the end of the email has been one of the major obstacles to fundraisers. It is challenging for fundraisers to strike a balance between a positive and uplifting tone while laying out the negative effects of inaction, for example, expressing an idea to the recipients that, "Without donations like yours, more children are going to live without food and clean water. ", which sometimes stir up guilt to the readers and make them less likely to give.
The benefit of making a strong conclusion for fundraising email is to ultimately enhance conversion rates, maximize engagement, and cultivate solid donor connections. A compelling conclusion is capable of motivating readers to act. People are more likely to donate, forward the email to others, or take other desired actions when they are more engaged. Most readers are expected to turn out as committed benefactors when they are motivated to take action and are aware of what has to be done. It means that a compelling conclusion results in higher conversion rates, which is what every fundraising effort ultimately aims to achieve. It is additionally capable of nurturing the connections between the contributor and the fundraiser because of fostered trust. Ultimately, benefactors are more likely to continue supporting an organization's cause for many more years, once they see the significance and outcome of such a campaign.
8. Make donating simple
One of the best strategies to craft successful emails for fundraising is to make donating simple.
Making it simple for the readers to donate is crucial since the primary goal of a fundraising email is to raise funds. Fundraisers who incorporate difficult or unclear donation processes after clicking the CTA button are expected to lose the chance of getting a committed benefactor. It usually happens regardless of how flawless the email content and how inspiring the call-to-action is. Readers are expected to quit before they even begin if a website is difficult to read and use, let alone make a donation. Some nonprofit organizations use online donation systems to ensure that the contributors have a simple and effective donation process.
The benefit of making donations simple for fundraising emails is that it helps non-profit organizations to raise conversion rates, enhance donor retention, broaden their reach, and cultivate a favorable image for their benefactors. Making donations simple in fundraising emails greatly improves a campaign's chances of success.
9. Keep an eye on and assess your emails
Fundraising emails are written successfully when fundraisers keep an eye on and assess them regularly. It takes more than just sending a fundraising email to solicit donations, what follows is significant as well. The use of KPIs or Key performance indicators is a great way to monitor the charity campaign. KPs help in determining whether the fundraising emails being sent are going to be successful or not. It is additionally useful when discovering what areas in the campaign require improvement to boost their efficacy.
Some of the email KPIs which fundraisers are able to use are the following; the delivery rate or the percentage of the emails delivered, the rate of unsubscription or how frequently a recipient opts out of the mailing list, and the close rate or the fraction of recipients who actually opened the email from a particular organization. Additionally, fundraisers need to observe some other factors such as the rate of clicks, or how many recipients click an email's embedded link, and the rate of email conversion, which indicates whether the person actually followed through after clicking the link in the email.
The benefit of keeping an eye on and assessing the donation emails is that it provides insightful data which help nonprofits' campaigns to perform better. Fundraisers who are able to monitor their donation emails using KPIs are expected to experience an increase in the success of their fundraising effort and produce more funding for their cause.
10. Tell them what their money will do
Effective emails for fundraising are written when fundraisers tell benefactors what their money is able to do. It is important to be direct and sincere when it comes to expressing the purpose of the funds being solicited. Nonprofit organizations need to indicate how the funds are going to change the beneficiaries' lives, as most readers are expected to be curious about these things. Fundraisers need to ensure addressing these concerns in the first few phrases. They must describe, for instance, the impact of a $5, $25, and $100 donation, if possible. It is vital to stress that all donations, big or small, are appreciated and are going to help the organization reach its goals.
The benefit of telling the benefactors what their money is going to do in the fundraising emails is that it assists to establish connections, boosts openness, motivates action, and fosters a feeling of community among donors and the organization.
11. Avoid requesting money in the opening email
Another effective strategy to create a successful fundraising email is to avoid requesting money in the opening message. It is generally a good idea to refrain from asking for funds directly in the first part of the email because it shuts off a reader's curiosity to even open the email. Beginning with a demand for money normally comes across as aggressive and unwelcoming. It doesn't develop relationships with potential donors, which is crucial in persuading people to support the cause.
It is viable for fundraisers to introduce the organization and outline their mission in the initial section of the email instead. Fundraisers need to make the request, within the first two paragraphs of the donation plea. It is not good to wait until the end of the appeal to state the goal of the email; the earlier, the better, but never on the first sentence. Readers who already have multiple demands on their time are going to value nonprofits for getting right to the point.
The benefit of avoiding requesting money in the opening section of a fundraising email is it strengthens the relationships with contributors over time and improves the efficiency of current fundraising efforts. The success of an organization's fundraising efforts is improved over time by focusing on relationship-building, offering context, enhancing engagement, personalizing the message, and raising brand awareness.
12. Divide Up Your Donor List
Another efficient way to craft great emails for fundraising is to divide up the donor list.
The donor list is the register for all people who give funds or goods to an organization. Dividing up the donor list is oftentimes referred to as segmentation. It is the process of categorizing your contacts by shared characteristics, such as their geography, income level, interests, giving tendencies, and more. These kinds of categories assist fundraisers in personalizing the solicitation emails so that they are appealing to the recipients and elicit an emotional response that is going to aid in generating more money.
The benefit of dividing up the donor list in the donation emails is that it helps non-profit organizations provide better engagement and retention rates toward their benefactors. It produces more effective and targeted messages and ultimately increases donations and support for the organization at the same time.
13. Brand your images and colors
Fundraising emails are crafted efficiently when fundraisers are able to brand the images and colors used in the message. Branding the images and colors for a fundraiser email refers to the utilization of illustrations and hues that are related to the organization and to the mission that they want to fulfill. It is to help the audience become aware and confident of the messages being sent to them. Fundraisers need to make sure that the branding is consistent throughout the board, including the donation emails.
The benefit of branding the images and colors employed in the donation emails is that it raises awareness of the brand, cultivates donor trust, reaffirms the organization's goal and values, elicit support for the cause and ultimately increases funds by evoking an emotional response
14. Boost delivery rates and prevent spam
A successful fundraising email is created by boosting delivery rates and preventing spam. One of the ways to boost delivery rates and avoid spam is by setting a good sender reputation. Sender reputation is a score given by ISPs or Internet Service Providers based on the email senders' previous actions. The score is used by ISPs to decide whether to transmit emails from a sender to recipients' inboxes or spam folders. The emails are more likely to be flagged as spam and not reach the intended recipients when the sender's standing is bad. Therefore, it is vital for email senders to pay attention to email list maintenance, send pertinent and worthwhile content, steer clear of spam trigger words and phrases, and keep track of their email metrics in order to increase the sender's reputation.
The benefit of boosting the delivery rates and preventing spam in donation emails is that it leads to greater reach, participation, reputation, cost savings, and regulatory compliance. It increases the success of the fundraising effort and assists charitable organizations in achieving their goals.
What is the Importance of Writing Fundraising Emails?
The importance of writing fundraising emails is primarily observed in non-profit organizations. Fundraising emails are greatly utilized by nonprofit organizations to obtain financial support from businesses, individuals, or other organizations. A particular study shows that nonprofits are able to raise $78 for every 1,000 fundraising messages sent in 2020, a 35% increase over 2019, which is expected to escalate in the succeeding years, according to Keela. It is an amazing return on investment and a simple strategy to increase the organization's funding given how cheap it is to send 1,000 emails.
However, fundraising emails are quite beneficial when used in email marketing at the same time. Fundraising emails become more impactful when employed through email marketing. It helps organizations broaden their reach, cultivate a committed donor base, and increase donations, which meets organizations' objectives. A separate study indicates that email marketing is what motivates  26% of online benefactors to give.
There are benefits to using and creating fundraising emails for email marketing. Some of these benefits include promptness, affordability, target orientation, wide coverage, and innovation. The use of email marketing for fundraising email allows nonprofits to not be concerned about physical letters taking too long to reach respondents or any diverted addresses because recipients are able to see the emails instantly. Email marketing is a more economical option for charitable organizations that are just getting started than stocking up on stamps, envelopes, and ink for direct mail. It is able to target the interests and skills of the people an organization is trying to attract with the fundraising messages. Email marketing makes it simple to expedite the process of communicating to all benefactors of the fundraising email, as well. Fundraisers are given the opportunity to quickly and easily test if a new communication approach is going to be successful or not, through Email Marketing.
When should Fundraising Emails be Created?
Fundraising emails must be created based on the organization's charity needs and preferences. It is normally created when there is a necessity to generate money for a certain project or cause.
Nevertheless, there are factors that need to be considered when creating fundraising emails. One of these factors includes a branded header. It is crucial to avoid using confusing language in emails, strong branding continually cultivates recognition and confidence among supporters. Fundraisers need to brand the emails consistently to help readers recognize the business and recall their favorable associations with the purpose. The use of attractive images needs to be considered in writing fundraising emails as well. The photos used must complement the subject matter and tone of the email. Another factor is the appeal. The fundraising appeal needs to be strong but succinct. It must be able to answer the questions, "Which of the following is the issue?", "What is the remedy?" "What immediate effects does a reader's donation have on the issue?" The demand for action is another factor to be thought about. A call to action button must always be present in the fundraising email, as the email's aim is emphasized in the call to action CTA. The footer of the email is undeniably a factor to be considered at the same time. It must contain the contact details for the company and an unsubscribe link. Emails used for fundraising must be straightforward.
When to Use Fundraising Emails?
The use of fundraising emails depends on the goal or purpose being delivered by nonprofit organizations. Being able to determine when to use fundraising emails helps fundraisers to achieve their fullest potential and meet fundraising objectives.
Some of the instances where fundraising emails are used are the following; starting a fundraising campaign, during charity auctions, creating relationships, natural crises, and year-end giving. Starting a fundraising campaign is one of the main uses of fundraising emails. An effective email helps fundraisers to spread awareness of their cause and persuade recipients to donate. Another major use of fundraising emails is to collect donations during specific fundraising events or charity auctions. For instance, nonprofits are able to send emails during a giving day or a charity auction to encourage individuals to make a donation. Fundraising emails are beneficial in creating relationships with the supporters as well. Fundraisers are able to use them to thank benefactors for their contributions, provide updates on how their gifts are being used, and share success stories that highlight the impact of their support. Nonprofit organizations and charities are able to send out fundraising emails to entice donors and help relief efforts when a catastrophe or natural disaster strikes at the same time. It is additionally effective to use fundraising emails during a year-end giving, as many people give to charities at the end of the year in order to claim deductions.
Who can Receive Emails about Fundraising?
Fundraising emails are usually received by people who have chosen to receive communications from a nonprofit organization or charity. Those who have already donated, as well as those who have shown interest in the campaign through email updates or newsletter subscriptions, are often included in the list of recipients.
Nonprofit organizations and charities need to make sure that the people on their email list have given explicit consent to receive communications, through a procedure known as "opting in." Opting-in is where people are asked to provide their email addresses and confirm that they want to receive emails from the organization. Additionally, it is critical to provide recipients with the choice to stop receiving emails in the future if they so want. A link to unsubscribe needs to be added at the bottom of each email to do it. Organizations are able to successfully interact with supporters and raise money by creating and maintaining a top-notch email list.
What are the Email Fundraising Writing Tips?
Listed below are the email fundraising writing tips.
Make the subject line distinct. The subject line is what readers are going to see in their inboxes. It is the first phrase that normally tells them what the email is about. A subject line's goal is to entice a potential donor to read more. Therefore, failing to pique the readers' interests leaves the fundraising email unopened and worse, immediately be deleted. A strong and attention-grabbing subject line is a successful one. Additionally, it is effective to use a distinct tone or voice in the subject line. Fundraisers need to be striking, audacious and create mystery without being cryptic.
Create short and sweet email content. The anniversary email must be brief. It is viable to divide paragraphs into one or two sentences, to give the impression of succinctness. Fundraisers must be careful not to lose a donor due to a lengthy block of material. It is important to strive for a well-written, concise email that flows well. The final words must be adjusted, rephrased, and perfected to flow naturally and include more impact.
Design a phone-friendly email. Most recipients nowadays are fond of using mobile devices in opening emails, including those used for fundraising. The same reason makes it essential to optimize email and make it compatible with mobile devices. Making fundraising emails even more mobile-friendly allows email writers to add supplemental components to the email content which helps them to be more inclined to read the email in its entirety.
Share a persuading story. Telling a captivating story is an excellent approach to engaging readers in the work or mission of non-profit organizations. It is essential to give the reader a first-person account of the individual or group being helped in a positive way. Fundraisers need to directly inform the recipients of the advantages of making a donation, to connect emotionally with a potential benefactor. They need to make sure that the recipients are truly connected to the cause of the organization.
Fill the email with "You"s. One of the effective tips in writing fundraising emails is to use the word "you" a lot of times in the email content. Many people merely skim the email, especially when the content focuses too much on the organization and the campaign. Nobody desires to read an email that is unrelated to them, generally speaking. It is crucial to connect as many sentences to the audience as possible. It is anticipated to encourage recipients to respond to the campaign. The reader must feel a personal connection to the organization and the goal is presented.
How long should I wait before sending a Fundraising email?
The waiting period before sending a fundraising email is not actually specified for fundraisers or nonprofits. The ideal frequency normally depends on the particular organization and the status of the benefactors. However, a recent study from nptechforgood.com states that nonprofit organizations need to deliver fundraising emails every other month. It goes to show that fundraisers need to wait for 60 to 62 days or 2 months before sending another email for fundraising. The same source indicates that the best time to send fundraising emails is on Thursdays around 8 o'clock in the morning. However, such studies include a flaw especially when a lot more nonprofits start sending email campaigns on Thursdays at 8 am. Subscribers are expected to get overwhelmed with emails on such a day and time making it no longer the optimum time to send fundraising emails. Fundraisers need to experiment, test and have the courage to deviate from the norm in order to identify the ideal time for their organization. Nevertheless, the timing of fundraising emails remains crucial since sending emails too frequently or infrequently enough affects the effectiveness of such emails.
What are the Best Examples of Fundraising Emails?
Listed below are the best examples of fundraising emails.
"Dear friend of wildlife" by Wildlife Conservation Society: It is an example of a fundraising email from the Wildlife Conservation Society which talks about the restored conservation of snow leopards in America. The Wildlife Conservation Society has been operating since 1895 with a mission to rescue wildlife and natural areas around the world. The fundraising email presented by the organization made use of an interesting topic line, "Let it snow", which captured the attention of a lot of benefactors. Writing a compelling subject line is capable of influencing whether a reader clicks or deletes without opening the email.
"On this New Year's Eve, we want to share a story of hope" by the Humane Society of Memphis and Shelby County: The fundraising email presented by the Humane Society made use of storytelling as a strategy to draw a lot of benefactors. The Humane Society is an animal shelter that rescues, medicates, and rehabilitates dogs and cats in Memphis. They used a story of a stray dog who was left paralyzed after being hit by a car and was brought to the shelter. The email tugs at the reader's emotions and enables them to emotionally connect with a dog in need of a home by utilizing the tale of an injured dog found in a desperate position.
"David Brower Center" by David Brower Center: The organization presents fundraising emails that use a single CTA to effectively catch potential benefactors. The email included a single straightforward, obvious contribution button, which recipients are able to click. None of the other buttons or links interfere with it, making it easy to see and click. Davide Brower Center is a foundation in California that focuses on environmental health and relevant movements.
"Make an end-of-the-year gift to support Lan Su Chinese Garden" by Lan Su Chinese Garden: The fundraising email presented by Lan Su Chinese Garden incorporated the principle of using relevant images in the content. The email contains a wide unfiltered image of a portion of the garden to showcase its nostalgic beauty to the benefactors. The campaign talks about the preservation of such an oasis of Chinese history. Giving prospective donors a visual representation of who or what their money supports helps them understand the difference their contributions are going to have. 65% of individuals say they prefer visual emails over ones with a lot of text. The Lan Su Chinese Garden is a botanical garden that showcases the rich history of Chinese culture and has been open for public use as a place for meditation.
"It's not too late to make a difference." by St. Louis Area Foodbank: The St. Louis Area Foundation administered the strategy of focusing the email to the reader and to the impact which their contributions are able to create. The email content includes a line stating, "$25 gives 100 meals", which gives the recipients a clear notion of the influence that they are going to bring with the money they are going to donate. Most recipients are going to be curious in learning how their contribution is going to help. It is important to state these things within the first two paragraphs of the email. St Louis Area Foodbank is an organization that aims to fight hunger and modernize the system for addressing hunger. St. Louis Area Foodbank showcases one of the Best Fundraising Email Examples on the web. Accordingly, it is viable for fundraisers to utilize effective methods in crafting donation emails when reaching out to former and future supporters.
What are the Best Fundraising Email Templates?
Shown below are some examples of the best fundraising templates.
Template 1
Good day.
We all know life is difficult, but consider what it is going to be like to lose loved ones in a war.
Imagine how your life would change if you lost the person you love the most. Regrettably, we are surrounded by a number of families who experience the pain of losing a loved one and must deal with harsh realities.
The mission of [Organization Name] is to offer counsel to military families who have lost a loved one. A year's worth of counseling for a family would cost no more than [insert amount].
Please provide a tiny amount to help us assist a family.
[Insert link for donations]
Template 2
Dear [Name Here],
The day of giving, Giving Tuesday is coming up tomorrow.
We want to gather enough money through our fundraising campaign to be able to build [Insert Number] homes for [Insert Number] low-income families in [Insert country name] over the next 24 hours.
When you give a home in [enter the name of the country], your donation is going to be matched.
Your efforts count because you have the power to lessen the suffering endured by low-income families in [Insert country name].
Send your most generous donation as soon as possible to support people in need. [Link to the donation page]
Template 3: To ask family and friends to donate
Subject line (short and engaging, no exclamation points or CAPS):
Dear [fill in name]
Perhaps you've heard that I'm raising money for [enter the cause for your fundraising]. Because [insert a personal justification that would stir the reader's emotions], such a cause is very important to me.
Notwithstanding the encouragement I've already received, I still need assistance in order to meet my fundraising target of [insert money amount].
Would you be prepared to support my fundraiser in any way? Any amount would be greatly appreciated by me.
Simply click the following link to contribute to my fundraiser:
[Enter URL of fundraising event]
It would be very helpful too if you could spread the word about my fundraiser on social media. The more visibility I receive, the quicker I'll reach my funding target.
Please get in touch with me; I'd love to discuss my fundraiser with you in person.
Truly, with love
(Your name)
Template 4: Pitch to the local media
Subject line (short and engaging, no exclamation points or CAPS):
Hello [fill in name]
I recently read [name of pertinent article or story] on your website, and I wanted to let you know about my own experience: [insert a link to fundraising]
[State your fundraiser in two to three sentences. It is the section of your fundraiser that needs to be a brief summary outlining why you began it and why it's vital. You should make clear how you or your recipient are connected to the neighborhood as well.]
So far, the community has raised [insert amount] to help [reiterate the cause].
Thank you for reading my story, and I'd welcome an opportunity to share more details with you.
Best,
[Your name]
[Your contact info]
Template 5: Calls for donations to local businesses
Subject line (short and engaging, no exclamation points or CAPS):
Hello [fill in name]
I need the assistance of neighborhood companies like yours because I am raising money for [insert the reason why you are raising money]. [Summarize your request for assistance in 1-3 succinct phrases to give background information and connect it to their neighborhood.]
We still have a long way to go, but the community has contributed [insert amount] so far toward my fundraising target. That's where your company comes into play.
Would you be willing to support my cause and come along with me on my fundraising journey? Any donation is going to have a significant impact.
Simply click the following link to contribute to my fundraiser:
[Enter URL of fundraising event]
Please get in touch with me if you'd want to learn more about my fundraiser.
Best,
(Your name)
[Your phone number]
The use of images for fundraising emails is important because of a number of reasons. Images are used strategically in fundraising emails to benefit from their visual appeal, belongingness, clarity, and call to action. Images in fundraising emails make them more visually appealing and engaging for the recipient. A carefully chosen image is able to grab their attention and urge them to read the email since most people are naturally drawn to visuals. Fundraising emails are routinely sent in order to deliver an organization's aspiration in acquiring financial support for the greater good. These notions are greatly expressed more effectively through images than through words alone. They help an organization with its soliciting initiatives and make all of its communications more visually coherent. Pictures are known to help the audience respond favorably to the email by making the text more intelligible and understood. Most entities utilize engaging tools for an effective CTA implementation which include images as well. The example templates showcased above are some of the Best Fundraising Email Templates which are anticipated to earn positive responses when incorporated with compelling and relevant images.
What are the Best Practices for Crafting Fundraising Emails?
Listed below are some of the best practices for crafting fundraising emails.
Be sure to include a subject line: The subject line of a fundraising email serves as both the reader's initial impression and, in many circumstances, the organization's sole opportunity to entice a recipient in opening the letter. Research shows that 35% of email receivers just read the subject line before opening the email, according to Hubspot. One of the ways that grab the interest of the audience is by making the subject line concise but informative. The ideal number of characters for the subject line is less than 65. It is important to create curiosity so that readers want to learn more but refrain from being spammy. Excessive punctuation and all capitals must be avoided as well.
Customize the communications: One generic fundraising email template is deemed convenient if it meets the recipient's needs. However, fundraisers need to customize or personalize each one to prevent showcasing a neutral or robotic ambiance. It is viable for nonprofits to consider segmenting their email list according to demographics, giving history, or other pertinent criteria, to avoid such cases. Segmenting the donor list is going to increase the email's open rate by 14.3%, according to MailChimp. Additionally, including the recipient's name in the greeting section enhances the potential for emails to be opened.
Make the email brief and sweet: The secret to a successful fundraising email is conciseness. People are expected to stop reading if there is too much-written content. Lengthy and wordy emails are proven to bore recipients with decreased excitement. The readability of an email is greatly influenced by its format, which must be simple and pleasing to the eye. Fundraisers need to remember that large paragraphs must be broken up to prevent overwhelming potential donors. Emails with more than four paragraphs are not good. The use of bolded text and subheads is additionally ideal for fundraising emails for easier readability. Adding high-quality images to encourage people to get behind the campaign at the same time.
Make the impact obvious: Fundraising emails need to include contents that answer the questions, "What are the donations for?" and "How does receiving the money alter the life of the beneficiary?" These are clear indications that the email is well-written and is going to be successful. Most recipients are expected to be inquisitive as to why the money is being raised and precisely how it is going to be utilized. It is vital to address these concerns in the first few phrases of the email. Fundraisers need to stress that all donations are appreciated and are going to help the beneficiaries involved.
Add visual materials: Fundraising emails need to be visually captivating. It is great to use at least one high-quality image in the email because they help break up content and lure readers toward the campaign. Using blurry photographs, logos, or images which are unrelated to the cause must be avoided since these are able to deter potential donors.
Which Elements Make Up an Impressive Fundraising Email?
Listed below are the elements that make up an impressive fundraising email.
Intriguing subject line: The first element of a successful fundraising email is to have an intriguing subject line. Intriguing topic lines make fundraising emails stand out in someone's emails. Topic lines must not just be strong but captivating at the same time, since it is the first thing that readers are able to see in their inbox. The success of fundraising emails primarily depends on the efficacy of the topic line being used.
Getting to the point quickly: Another element of an efficient fundraising email is to get to the point directly. Most readers don't have long attention spans, which is why the goal of the emails needs to be expressed right away. It is imperative to set the core of the message at the top of fundraising emails, to immediately capture the readers' attention and their anticipated donations. Fundraisers must provide the most important information to the recipients within the first 150–200 characters of the email content.
Describing the impact of the donations: Successful fundraising emails are able to specify the exact purpose of the funds being solicited. It is not just stating where the money goes but indicating how it affects the beneficiaries involved. Nonprofits must use statistics and case studies to demonstrate to funders how actual life changes occur or how the impact is made. They need to simply and concisely state the "how", instead of boring the donors with complicated or technical justifications.
Compelling CTA: Another important element of effective fundraising emails is having a compelling CTA. CTA or call-to-action is essential to get feedback from recipients. However, it is impossible to even complete a fundraising attempt when the CTA is not persuading or engaging. The most effective CTAs adhere to a formula that comprises; precision, concreteness, and time-boundedness. These components, when used all together, are able to convey to donors the true purpose of their contributions and instill a sense of urgency towards them.
Making CTAs more noticeable: The last element for a successful fundraising email is to make the CTA more visible. The success of fundraising emails does not depend on engaging CTAs alone, but on how these things are noticeable to the recipient's end, at the same time. Extremely conspicuous CTAs are produced when one of these two methods is used; linking from a complete phrase rather than just the word "donate" and placing a donation button at the lower section of the mail. Accordingly, increased click-through rates are achieved by employing one or both of these strategies.
How many emails should you send for a fundraising campaign?
The number of fundraising emails that must be sent to certain recipients depends on the organization's preferences. However, the average number of fundraising emails that nonprofits normally send within a year is 24, as stated in specific research conducted by M+R Benchmark. It goes to show that there are about 2 solicitation appeals sent every month.
Conversely, there are organizations that prefer delivering fundraising messages to benefactors four times a year. Accordingly, it is expected that with fewer donation appeals sent, the engagement of potential benefactors decreases at the same time. Quarterly email solicitations are deemed insufficient, especially if the organization wants to generate significant cash from a fundraising operation that primarily relies on emails. However, using such a strategy in the direct mailing is anticipated to be effective at some point.
How to Determine Fundraising Email Topic?
Listed below are the four steps on how to determine the fundraising email topic.
Identify the goal. The first step in determining the topic for a fundraising email is to decide what the email's goal is. The foundation around which the entire charity campaign is constructed is the purpose of the fundraising email. Finding the right email topic is expected to be difficult if the purpose is not clear and defined. The fundraising email's objective is generally to solicit money for a particular project or event, to continue collecting donations for continuing support, and to persuade readers to do a certain action, such as signing a petition or going to a particular event. It is simpler to pinpoint the recipient group and write a message that clearly conveys the urgency and significance of the mission when the email's objective is clear and specified beforehand.
Know the audience. The second step in knowing the fundraising topic is to identify the target audience. It is critical for nonprofit organizations to understand who the target market is and know their interests and needs. Fundraisers are able to craft effective email messages by studying the demographics, values, and behaviors of the target audience. It is imperative to have a clear understanding of these things to effectively convey the urgency and relevance of the campaign and motivate recipients to donate.
Perceive the right timing. The third step in determining the topic for fundraising emails is to perceive the right timing to create and send the emails. Timing is crucial when writing and distributing fundraising emails. The timing must be in line with the recipient's actions and the organization's fundraising objectives. The fundraising email is viable to be distributed on a recurring frequency, such as monthly or quarterly if the objective is to generate continued donations. Knowing the target audience's behavior and timing improves the email's efficacy and motivates recipients to take action.
Test the topic. Finally, the fourth step in choosing the topic for the fundraising email is to test the topics created. One way to assess the efficacy of the topics chosen is to utilize A/B testing. It is done by sending various emails to different donor categories and then examining the produced results. It helps fundraisers to determine which topics are most effective. The email's design, messaging, and call-to-action are improved upon, and any problems are found during testing. Non-profit organizations are able to use these issues as bases for the final email campaign while assuring success in meeting their fundraising objectives.
What types of Emails should be Used in Fundraising Emails?
Listed below are some of the types of emails that must be used in fundraising emails.
Emails for greetings: Greeting or welcome emails are good examples of emails to incorporate a fundraising campaign into. These types of emails are essential to extend a sincere welcome to new email subscribers. Greeting emails improve relationships with potential benefactors and boost the likelihood of receiving donations. The greeting email is best employed in a subsequent manner in order to optimize the donor response. These series are essential in generating donations since 74% of new subscribers anticipate receiving a welcome email after signing up for a newsletter. Greeting emails have an average open rate that is 202% higher than standard email campaigns, which goes to show that these emails, in essence, frequently establish the first impression of a particular brand. Furthermore, it helps in determining whether a recipient makes a contribution or opts out of the email list.
Emails for storytelling: Another type of email that is best to be incorporated with fundraising emails is the storytelling email. Recipients who are emotionally engaged by tales or narrations are more likely to donate, through a storytelling email. Some fundraisers make use of stories as a key component of their nonprofit email marketing plan, regardless of the specific purposes they have. Additionally, plainly mentioning the name of the recipients somewhere in the email message often promotes an emotional tone toward the topic, drawing them to opt in. Stories used in fundraising emails usually come in the form of a personal anecdote from the organization's founder or a compelling tale from the workplace. Fundraisers need to be imaginative with the email content, emails that tell a story are a great way to promote fundraising emails.
Emails for gratitude and updates: Thank you and update emails create successful collaboration with fundraising emails. Commending donors with a brief letter and discussing program improvements is a wonderful email tactic to enhance donor retention. Highlighting a specific donation result gives benefactors a reason to smile. Donation goals are made to feel more real by adding little details like the "You are here" marker in the emails' timeline. Packaging these updates as thank-you messages are expected to enhance the click-through rates and overall deliverability. The same goes to delivering frequent updates, which encourages repeat donations from the supporters and keeps them interested. Fundraisers are able to utilize concepts in the update emails, such as important milestones and celebrations of organization anniversaries. Additionally, nonprofits are able to include new ideas, forthcoming activities, fundraising drives, or programs that the organization wants to launch in the update email.
Emails for Holidays: Fundraising emails become even more effective when embodied in holiday emails. The holiday season is when most charity donations are made, and a fundraising email is a potent tool for capturing such a giving attitude. Donations throughout the holidays must be pushed for without fear, as most people expect them, and are prepared to respond positively.
Emails Based on a Number and Statistics: Statistics and figures in fundraising emails are a tried-and-true approach to stand out in the most benefactors' inboxes. Explicit counts and stats often grab people's attention quickly. Fundraisers need to include comprehensive stats, for instance, "844 million people globally lack access to safe water", in the email body and preview text to attract more benefactors. Including a donation infographic in the email is another technique to inform recipients and get their attention. Non-profit organizations are able to add figures into nonprofit email marketing campaigns, for example, "$300 million+ total annual economic impact".
Emails matching donations: Fundraising emails work effectively when used with matching donation emails. There are 84% of donors are more likely to give if their employer matches their donations, and one in three donors is anticipated to make larger gifts in such a case according to a study by Double the Donation. Fundraising emails incorporated with matching donations are best delivered during the holidays, nevertheless, nonprofits are still able to launch them any time of the year. Matching donation emails need a strong and clear call-to-action or CTA, as they immediately give donors the impression of getting the most out of their donation. More of these CTAs are desperately needed because an estimated $4 to $7 billion in matching funds are lost each year.
Emails for questions and surveys: Query and survey emails are good collaborators of fundraising emails as well. It is a good idea to include surveys and question-based emails in fundraising emails to encourage interaction. Questionnaires let fundraisers discover more about the contributors and enhance email list segmentation. Non-profit organizations are able to stand out in a supporter's inbox by letting recipients know that they are paying attention. One research shows that in a 1,000 cold email experiment, emails with questions that stretch readers' cognitive abilities get higher response rates, according to Fast Company. Surveys emails assist nonprofits in creating personalized emails that provide the appropriate messaging as well.
Emails for minimalists: Fundraising emails are going to demand less labor and be easier for recipients to read using a minimalist email. Short emails with straightforward language typically convert better than longer ones. It is because there are fewer moments where readers lose interest or quit. The strategy eventually makes it more difficult for recipients to overlook the CTA. Catching donors' attention often begins with an email. However, fundraisers need to improve the landing page where the "contribute" or "sign-up" button is located to encourage donors to continue progressing through the donation funnel.
Emails for success stories: Fundraising emails become even more grabbing when fundraisers share the success stories about the organization and how the contributors have helped in achieving the organization's goals. These success tales demonstrate the integrity, caliber, and dependability of the organization. Showcasing specific instances of achievement or people who have benefited from the work provides verifiable evidence of the influence of the organization. Fundraisers are able to showcase how the larger community has supported their cause by including quotes, photos of happy people, or data from a fundraising target. Emails for success stories is one of the Types of Emails that goes very well wit fundraising campaigns which inspire recipients in supporting the organization's mission even more
How to Use Mail Merge for Fundraising Email?
Listed below are the steps for using mail merge for fundraising emails.
Create the document. The first step to using mail merge for fundraising emails is to install a MAPI-compatible email client like Outlook. MAPI stands for Messaging Application Programming Interface which allows certain computer applications to be email-ready. Email writers must open an empty word document file and type the body of the email message they want to send. They need to go over to the control tab and click "Mailings", and then "Start Mail Merge" and then " E-mail Messages" to start writing if they prefer Outlook.
Prepare the mailing list. Secondly, fundraisers need to set up a mailing list. The email list serves as the main source of data. A mailing list is either created before the mail merge or during the process. It is important to use text formatting if an Excel spreadsheet with the ZIP Codes or postal codes column is being used, to retain any zeros. Additionally, one must make sure that Outlook is the default email application and that it has the same versions as the Word app being used when using Outlook contacts.
Connect the email message and the mailing list. Linking the email list to the email content is the third step to take. Fundraisers need to be certain that their data source includes a column for email addresses and that the email address of each person to whom they are sending emails is present. They need to navigate to the control bar and click "Mailings,'' and then "Select Recipients'' once the column for the data source is settled.They need to select a data source, after which. They need to select the file by clicking "File" and then " Save." Additionally, they are able to edit, sort, or filter the mailing list by clicking "Mail merge," and then "Modify recipients."
Customize the email content. The fourth step is to make customizations to the email message. Including customized content in the email message is permitted in Outlook. Fundraisers need to click on "Mailings," and then on " Greeting Line.," to do it. They need to choose the format they want to employ afterward. The "OK" button needs to be selected to insert the merge field, consequently. They must click on "File" and on "Save" to finish the fourth step. Adding more fields in the email message from the data source is additionally viable, email writers must check on the "Insert mail merging fields" to get further details about it. However, it is important to remember that after inputting fields, the anniversary email needs to be manually formatted.
Check and finish. The fifth step in sending bulk anniversary messages is to assess the email and finalize it. The process for examining the names and addresses in the email body starts by selecting "Preview Results", and then clicking "Next" or "Previous". Fundraisers need to choose "Finish & Merge '' and "Send E-mail Messages" to finish and send the bulk emails. They need to choose the email address field or column from the mailing list in the "To" box. It is important to remember that the Word App is able to deliver messages to each email address in the list. However, it is impossible to utilize BCC or Cc on such an application. Links are additionally permitted, but email attachments are not. The writers then need to enter the message's subject in the Subject line box. They are allowed to select HTML (the default option) or "Plain text" in the "Mail Format" box, to deliver the file as the email message's body. Subsequently, they must choose one of the following options namely, "Send Records", "All' record which is the default, "Current record", which is the currently visible record on the screen, or "From" and "To" to just send a selection of records. The button "OK" must be selected to eventually initiate mail merge.
Save the message. Finally, the email messages sent in bulk are saved for further reference. Nonprofits need to choose and click on "File" and then "Save". The connection to the data source is saved the moment the main document is saved. Fundraisers are able to reuse email messages by opening the document and selecting "Yes" in the prompt message. It is to maintain the connection to the data source.
An example of a fundraising email delivered through mail merge is shown below.
"Tim,
Hey, I hope your week is off to a terrific start! At the fundraiser last weekend, it was wonderful to finally put a face to a name and get to know your wife.
Please let me know if you are available to discuss becoming more involved with our group during the next few weeks.
I'm looking forward to speaking with you again soon.
-Kevin"
It is vital to crafting the mail merge message as though it were an individual email. It has been discovered that opening fundraising emails with a word like "Hey" enhances response rates, illustrating Mail Merge for Fundraising Email. It is possible to use some of the excel fields to customize the email content by adding more than just numbers or data for the merge.
How often are Fundraising Emails used in Email Marketing?
The frequency of the use of fundraising emails in email marketing depends on the organization and its fundraising objectives. Fundraising emails are undeniably a frequent email marketing strategy. Some organizations send fundraising emails less regularly, such as once or twice a year, while others send them more frequently, such as monthly or quarterly. On the other hand, there are organizations that prefer to deliver fundraising emails more frequently, such as twice a month to optimize the conversion rates.
Nevertheless, it is important to strike a balance in sending fundraising emails. Too many fundraising emails delivered, sometimes result in donor weariness and unsubscription. On the contrary, sending too few emails leads to missed opportunities for donations. Nonprofit organizations need to take into account the size of their email lists and segment them, in order to send tailored communications to particular constituencies of supporters,
Are Fundraising Emails Useful in Email Marketing?
Yes, fundraising emails are an essential component of email marketing. It is commonly beneficial for non-profit organizations and other entities that depend on donations to further their goals. Nonprofit organizations are able to use fundraising emails to share their goals, interact with their supporters, and motivate them to take action like making a donation, showing up at an event, or signing a petition. Email marketing increases the likelihood of recipients taking positive actions, because of its ability to personalize the content and efficiently reach a broad audience.
Do Fundraising Emails work?
Yes, fundraising emails are effective at raising money and motivating supporters. However,  they additionally depend on a number of other criteria, such as the caliber of the email's language, design, the call-to-action, as well as the relationship between the organization and its target audience. Fundraising emails are able to help organizations meet their goals for donations and broaden the reach of their missions when used efficiently. Nevertheless, it is essential to keep in mind that not all fundraising emails are going to be successful. Non-profit organizations need to test out various techniques and tactics to find the best means of interacting with their audience and achieving their objectives.